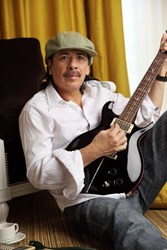 Stevensville, MD (PRWEB) November 26, 2013
The John F. Kennedy Center for the Performing Arts has announced the selection of the five individuals who will receive the 2013 Kennedy Center Honors. Paul Reed Smith Guitars would like to congratulate Carlos Santana, a PRS Signature Artist, as one of the five recipients to be honored at the 36th Annual National Celebration of the Arts. Other honorees selected are: opera singer Martina Arroyo; pianist, keyboardist, bandleader and composer, Herbie Hancock; pianist, singer and songwriter, Billy Joel; and actress Shirley MacLaine.
"The Kennedy Center celebrates five extraordinary individuals who have spent their lives elevating the cultural vibrancy of our nation and the world," said Kennedy Center Chairman David M. Rubenstein. "Martina Arroyo has dazzled the world with her glorious soprano voice and continues to share her artistry with a new generation of opera singers; Herbie Hancock has established himself as one of the most innovative musicians in the world, constantly breaking musical barriers and redefining the art of jazz; Billy Joel's melodies have provided the soundtrack of our lives for over four decades making him one pop music's most prolific and memorable singers and songwriters; the remarkable breadth and range of Shirley MacLaine's acting has left an indelible impression over a nearly 60-year career on stage and screen; from his legendary performance at Woodstock to his sweep at the 2000 Grammys and beyond, Carlos Santana's artistry transcends genres while entertaining millions."
The annual Honors Gala has become the highlight of the nation's cultural year, and its 2-hour primetime special broadcast on CBS is a high point of the television season. On Sunday, December 8, in a star-studded celebration on the Kennedy Center Opera House stage, produced by George Stevens, Jr. and Michael Stevens, the 2013 Honorees will be saluted by great performers from New York, Hollywood, and the arts capitals of the world. Seated with the President of the United States and Mrs. Obama, the Honorees will accept the thanks of their peers through performances and tributes. The President and Mrs. Obama will receive the Honorees and members of the Artists Committee who nominate them, along with the Kennedy Center Board of Trustees at the White House prior to the gala performance. The Honors Gala will be recorded for broadcast and aired on Sunday, December 29th at 9:00 p.m. (ET/PT).
Carlos Santana has a long standing relationship with Maryland guitar manufacturer, Paul Reed Smith Guitars that began in 1981 when he borrowed a PRS guitar to use on his successful "Zebop!" album. Through the years, Santana has collaborated with PRS's working founder, Paul Reed Smith, on the design of both US-made "Santana" model instruments and PRS "SE Santana" guitars, which are manufactured under license in Korea. PRS's SE line began in 2001 and is the result of Santana's desire to offer his signature guitars at a more affordable price point. Santana is one of only three artists to have both an American-made PRS signature model and a PRS SE signature model (along with Mark Tremonti and Dave Navarro).
To hear Santana discuss the role of art and music in the world and how to find your own artistic voice with fellow artists Derek Trucks, Warren Haynes, and Paul Reed Smith, watch PRS's Foundations video here: http://www.youtube.com/watch?v=T-ZoPlq_PrA.
About PRS Guitars:
Paul Reed Smith Guitars is a leading manufacturer of high quality instruments in Stevensville, Maryland and has provided some of the world's most renowned musicians with instruments since 1985. The PRS team of highly skilled craftspeople design and build a wide variety of musical instruments and gear for worldwide distribution, including electric, acoustic, and bass guitars as well as boutique-style guitar amplifiers. The PRS SE line of products complements the Maryland-made PRS line by offering highly approachable and more affordable electric and acoustic guitars and guitar amplifiers. Carlos Santana, Neal Schon, John McLaughlin, Linkin Park, Orianthi, Opeth, Zach Myers of Shinedown, Mark Tremonti of Creed and Alter Bridge, Ricky Skaggs, Cody Kilby, Martin Simpson, Tony McManus, Warren Haynes, and Derek Trucks are among the artists currently playing PRS instruments and/or amplifiers.
PRS Guitars Info: http://www.prsguitars.com
About Carlos Santana
For forty years and as many albums later, Santana has sold more than 100 million records and reached more than 100 million fans at concerts worldwide. To date, Santana has won ten GRAMMY® Awards and three Latin Grammy Awards. He won a record-tying nine GRAMMY'S for a single project for 1999's Supernatural (including Album of the Year and Record of the Year for "Smooth"). He has also received Billboard Century Award (1996), Santana was ushered into the Rock and Roll Hall of Fame (1998); and, the Billboard Latin Music Awards' Lifetime Achievement honor (2009). Among many other honors, Carlos Santana has also been cited by Rolling Stone as #15 on their list of the "100 Greatest Guitarists of All Time." Celebrating the chart debut of Guitar Heaven… The Greatest Guitar Classics of All Time (Arista) in 2010, Santana joined the ranks of the Rolling Stones as the only musical act in chart history to score at least one Top 10 album in every decade beginning with the 1960s. Santana is currently in the studio recording many superstar collaborations for a new star-studded album project CORAZON in which many genres of Latin music will be represented in these collaborations including pop, rock, salsa, hip-hop, folk, reggae, traditional and bachata -- release date and more album details to be announced soon. He is also currently headlining at a multi-year residency at House of Blues at Mandalay Bay Resort in Las Vegas.
Carlos Santana Info: http://www.santana.com
Images of Carlos Santana are available via the following link: http://prsguitars.com/media/santana/