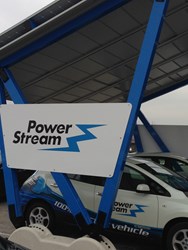 Solar carport operates in concert with grid, storage and other generating technologies to operate unique Micro Grid project
Toronto, Canada (PRWEB) December 03, 2013
renewz sustainable solutions inc. of Montreal, Canada, developer of solar powered carport and electric vehicle charging stations, and PowerStream Inc. of Toronto, Canada, Ontario's foremost renewable energy portfolio utility company, announce the launch of their first joint Micro Grid project located at the headquarters of PowerStream, in Vaughan, Ontario.
"Micro Grid technology is an innovative distributed power solution that will provide consumers with safe, sustainable and reliable energy choices for both generation and consumption." said Brian Bentz, President and CEO at PowerStream. "We believe that solar carports, combined with electric vehicle charging stations, provide the optimal clean energy components of such systems. Judging by the results we see today at our head office, we are pleased with our choice of renewz as our solar carport project partner."
The grid-tied isola™ solar power carport was built at the back of PowerStream's headquarters in under three days from arrival of equipment to completion of construction.
"We are pleased to have been selected by PowerStream as the solar carport provider for this demonstrative Micro Grid project" said Sass M. Peress, CEO of renewz®. "Our solar charging station design was selected due to its maximum positioning flexibility on an existing parking area and minimized site disruption. Our Micro Grid integrations will increase more rapidly as awareness of – and confidence in – our platform's capabilities grows. Whether for commercial/industrial, community/utility, campus/institutional, military, or remote (off-grid) projects, our unique approach to the deployment of solar carports as a component of Micro Grids is a clear advantage to our customers".
The electric vehicle chargers installed by renewz are enabled for remote communication and charge station management, in addition to being *future-proofed* to permit eventual V2G (vehicle-to-grid) inter-operability.
"The collaborative solution Powerstream is implementing is a model for other utilities and is a key component to enabling Electric Vehicle adoption, while at the same time controlling energy costs during peak times" said Rob Farrell, director of Marketing, Canadian Operations, Eaton Corporation's Electrical Sector. "We are pleased to be able to showcase our Integrated Power Solution (IPS) in combination with this solar carport, a unique offering for such an iconic canopy design that integrates all of the electrical products into a singular enclosure".
"It is a great achievement for us that our solar panels,being the only ones made in North America to feature DC optimization, were selected for this Micro Grid project" said Paolo Maccario, COO and GM of SILFAB Ontario. "We believe that Micro Grid projects such as these will benefit from increased demand, particularly in remote areas or where power access is unstable."
Other technology partners in the project include: General Electric, Navigant Consulting, Enbridge Gas, SMA , Rosewater, Enviro-Tech, and the Westburne division of Rexel.
About renewz sustainable solutions inc.
renewz sustainable solutions inc. develops and delivers unique solar carport projects based on careful matching of design, technology and brand requirements of its clients. Through the delivery of recognizable, easy-to-implement, and effective solutions, we help clients discover ways to increase their energy independence and security, with leading environmental stewardship...from road to roof®. For more information, visit http://www.renewz.com, facebook.com/renewz or view our videos at youtube.com/renewzsolutions
About PowerStream Inc.
PowerStream is a community-owned energy company that provides power and related services to more than 360,000 customers residing or owning a business in communities located immediately north of Toronto and in Central Ontario. It is jointly owned by the Cities of Barrie, Markham and Vaughan. For more information on the project, visit http://www.powerstream.ca/microgrid
###
Contacts:
Sass Peress
renewz
sass(at)renewz(dot)com (514) 909 5047 (mobile)