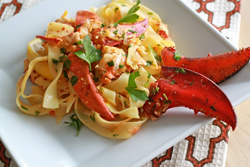 (PRWEB) November 27, 2013
GetMaineLobster.com is in the giving spirit this holiday season, and the live Maine lobster and seafood delivery service is offering the unforgettable flavors of Maine at incredible discounts during Black Friday and Cyber Monday.
Beginning Friday, November 28 at 12:01 a.m. (EST), and lasting until 11:59 p.m. (EST), GetMaineLobster.com is offering 45 percent off on all non-sale items. Simply enter discount code "BLACKFRIDAY" upon checkout. In addition, select items are available for 70 percent off of the retail price, including 20 five- to six-ounce Maine lobster tails for only $149.99, a Maine Tail and Chowder Feast for $69.00, and 24 Maine lobster cakes for $62.00.
GetMaineLobster.com is also offering Buy One, Get One specials on its most popular products, including live Maine lobster, gift certificates, Maine lobster tails, and surf and turf dinners. Buy Now, Ship Later specials are also available and make great gifts for anyone who wants to take advantage of the savings now and enjoy Maine lobster and seafood when it's convenient.
Similar specials are available during Cyber Monday on December 2 from midnight to 11:59 p.m. (EST). Enter discount code "CYBERMONDAY" upon checkout to receive these one-of-a-kind savings opportunities.
To learn more about GetMaineLobster.com, browse its wide range of seafood offerings, and to access lobster recipes or view current specials, visit GetMaineLobster.com or call (866) 562-4817. For even more lobster news and recipes go to JustAddLobster.com.
About GetMaineLobster.com
GetMaineLobster.com, a division of Black Point Seafood and Black Point Gourmet, hand-selects the finest Maine lobster, seafood and beef products for convenient distribution throughout the United States. Their passion is to make fresh, quality seafood readily available to customers across the country, which is why they buy from only the most trusted, well-established suppliers to ensure that they receive the finest products available.
GetMaineLobster.com was selected out of the more than four million small American businesses served by Chase bank to represent its new Platinum Business Checking product for its 2013 national advertising campaign.