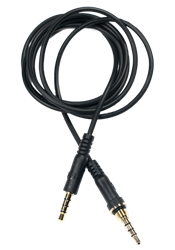 Know many users who quit using their LifeProof case because of how cumbersome it became to access the auxiliary port. - Evan Pucket, President and Founder of ConnectOne LLC
(PRWEB) December 03, 2013
Until now, if a LifeProof user wanted to listen to music or podcasts from their Apple products, they had to: 1) take the case off and connect with a standard auxiliary cable, or 2) use a custom 3 inch auxiliary attachment that connects to a standard auxiliary cable. Removing the case defeats the purpose of having the Apple product protected from water and dust, while keeping up with an extra three inch attachment to use the auxiliary port with the case in tact is an inconvenience.
"Both methods are less than desirable," said Evan Puckett, President and founder of ConnectOne, LLC, an electronics accessories company. "LifeProof makes an excellent case that protects many products from the elements," adds Evan. "But who wants to keep up with an attachment and an auxiliary cable to listen to music or pod casts?"
Worse yet, if you don't have the attachment, LifeProof users must remove the case before they can connect to their media of choice. "I know many users who quit using their LifeProof case because of how cumbersome it became to access the auxiliary port," continued Evan.
ConnectOne makes the only LifeProof compatible auxiliary cord that protects the integrity of the LifeProof case without requiring an extra attachment.
ConnectOne's initial auxiliary cable is a custom cable designed to connect to any LifeProof case used with Apple products, such as the iPhone and iPad. One end of the cable connects to the LifeProof auxiliary port and seals the connection to protect the product from the elements, mainly water. The other end is a standard auxiliary connection that the user can connect to an external device, such as headsets or a car stereo speaker.
To learn more about the ConnectOne auxiliary cable, please visit http://www.connectonecable.com. The cable is available for purchase on Amazon.com.
About ConnectOne, LLC
ConnectOne, LLC is an electronic accessories company committed to providing high-quality products that meet unique challenges in the marketplace. Our commitment to Innovation and Excellence are reflected in the products we create.
Media Contact:
Evan Puckett
318-514-8079