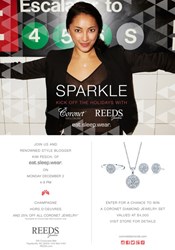 Los Angeles, California (PRWEB) November 27, 2013
'Tis the season to sparkle with Coronet Solitaire. Coronet Solitaire invites you to join them at Reeds Jewelers at the Cross Creek Mall in Fayetteville, North Carolina for an exciting event with Kim Pesch of eat.sleep.wear on Monday, December 2nd from 4-8 PM. Spend an amazing night sipping champagne and tasting Hors D'Oeurves with renowned blogger, Kim Pesch offering advice on finding the perfect Coronet Diamond Piece for any style. To add to an already spectacular night, Reeds Jewelers is offering their customers 25% off Coronet jewelry.
Come in and enter for a chance to win a Coronet Solitaire jewelry set valued at $4,000. You could be the lucky winner of these uniquely brilliant Coronet Solitaire diamond pieces. Unlike any other designs, Coronet's revolutionary design offers 7 round brilliant diamonds set with no prongs and an elevated center stone. Bloggers, fashionistas, style icons, designers, and shoppers will fall in love with Coronet's designs. What better way to begin your holiday shopping than to buying yourself some well-deserved stunning Coronet Solitaire jewelry at 25% off. It's going to be a fashionable night of glamour, luxury, and style.
About Coronet Solitaire:
Coronet Solitaire is an exclusive line of diamond jewelry that carries a patent-protected tiered setting: six diamonds surrounding one elevated center stone without the use of any prongs. The allure of this innovative design is the perfect diamond luminosity that it creates, relatively unrivaled by any other jewelry brand. 399 facets in a Coronet piece compared to 57 facets in a single round stone allows an interplay of brilliance and light that outshines any diamond jewelry without the unattainable price tag. Coronet Solitaire makes it possible to transform fine jewelry into an easily-accessible daily wear. Follow Coronet Solitaires on Facebook, Twitter, Pinterest, and Instagram.
About Reeds Jewelers:
Founded in 1946 by Bill and Roberta Zimmer, REEDS is a true American success story, having grown from one hometown store to a full-service multi-channel jewelry retailer with retail stores in 18 states, a national direct mail catalog, and a leading e-commerce website, REEDS.com. Still a proud family-run business, REEDS strives to make every customer "feel like family", with personalized service, attention to detail, and lasting quality and style.