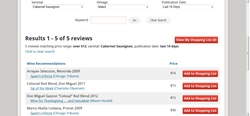 I did a search for websites that summarizes weekly wine reviews but I was completely surprised when I couldn't find any!
Reston, Virginia (PRWEB) November 28, 2013
Every week, the staff at VinoClipper.com searches, summarizes, categorizes and creates links to wine recommendations from top wine critics across the nation.
The VinoClipper website provides easy access to this growing repository of wine recommendations allowing the wine shopper to create a shopping list of interesting and recently recommended wines.
Dozens of wine critics working for magazines, websites, and newspapers publish their wine recommendations each week. From abarino to zinfandel, from the Willamette Valley to the Yakima Valley, thousands of wines are recommended at all price levels.
Mike Pilon, the owner of MapMuse and long time wine shopper, has been thinking about consolidating wine recommendations for years.
"I frequently searched newspaper websites across the nation looking for new and different wines to buy that are a good value. I found that wine critics at newspapers provided loads of quality recommendations. I did search for websites that summarized weekly wine reviews but I was completely surprised that I couldn't find any! So I decided that MapMuse should take this task on."
The recommendations can be searched by price, varietal, region, country, type, vintage, critic name, publication, or publication date. Each wine recommendation is summarized with a link to the original article.
Also if a visitor to VinoClipper wants to add a "professional wine recommendation" to share with other wine shoppers, they can simply submit the URL through the website and the staff at VinoClipper will review the recommendation and add it to the repository if it is valid and appropriate.
In addition to wine recommendations, the VinoClipper.com website also provides listings and maps of wineries and wine shops across the United States. Another of the unique features of VinoClipper.com are links to hundreds of ecommerce sites of wineries across the nation. So if you can't find a wine at your local wine shop you can always see if you can order the wine directly from the winery. The staff at VinoClipper.com has identified over 1,500 wineries that have ecommerce shopping pages.