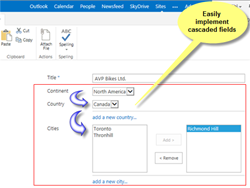 Toronto, ON (PRWEB) December 05, 2013
KWizCom, a leading developer of innovative software components designed to expand Microsoft SharePoint, announces a special Christmas promotion and offers Cascading LookApp Field Type, a top-notch SharePoint App for Office 365 customers (SharePoint Online) for free until December 31, 2013. This relatively recent product release has specifically been developed for the Office 365 platform and catered to its unique capabilities.
KWizCom's Cascading LookApp Field Type extends Microsoft SharePoint Online which enables users to surpass the limitations of the out-of-the-box SharePoint Online (Office 365) Lookup Field and allows the clients to facilitate various business scenarios that, until now, were impossible to accomplish in SharePoint Online. Moreover, this cutting-edge SharePoint app for Office 365 by KWizCom offers accelerated content editing which many will find useful.
Cascading LookApp Field Type offers the users the capability to implement the following business scenarios:

Fields that are filtered by other fields on the same form such as the classic "Region > Country > City" scenario

Now it is possible to connect between lists that are located in different sites

Customers can have their drop-down lookup field display different values to different employees according to various criteria (for example, each sales agent can see only clients or sales regions that are assigned to him/her)

Quickly create new items in the referenced list
While editing an item with a lookup field that references a remote list, users can create new items in that remote list directly from the current item (instead of browsing the remote list and then adding a new item to it). This speeds up the entire editing process making it less cumbersome and more efficient.
If you are utilizing SharePoint online, you are encouraged to take advantage of this fantastic offer which is valid until December 31, 2013.
Click Here to get Cascading LookApp Field Type for free.
Follow KWizCom on Twitter http://www.twitter.com/KWizCom
Become a fan of KWizCom on Facebook: https://www.facebook.com/KWizCom
Join KWizCom on LinkedIn: http://www.linkedin.com/company/kwizcom
Contact a KWizCom Account Specialist at +1-905-370-0333/+1-855-KWIZCOM or info(at)kwizcom(dot)com.
About KWizCom Corporation
Since 2005, KWizCom has provided innovative solutions and services to make SharePoint even better for over 5,000 companies worldwide. KWizCom's solutions and services expand Microsoft SharePoint out-of-the-box capabilities, streamline workflow, maximize efficiency and enhance over-all productivity for hundreds of thousands of users. KWizCom, a Gold Certified Microsoft Partner, is headquartered in Toronto, Canada. Please visit http://www.kwizcom.com to find out more about KWizCom's clients, people, partners and solutions.