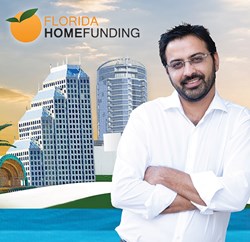 Florida Home Funding offers lower mortgage rates than the banks.
(PRWEB) November 26, 2013
Florida Home Funding, an Orlando based mortgage broker is offering significantly lower mortgage rates through access to its wholesale channels. With lower overhead and a dedicated focus on originating mortgages under the new QM (Qualified Mortgage) guidelines set forth by the Consumer Financial Protection Bureau, they are able to undercut their larger bank/lender counterparts.
Their mortgage rates on 11/26/2013, are averaging 4.25%/4.305% APR for a 30 year fixed rate mortgage based on a 250k purchase transaction for a borrower with a 760+ credit score and 20% down-payment. The top 5 banks in the country disclosed average rates on their websites at 4.5% / 4.673% APR. This is almost .25% higher than the rates at Florida Home Funding.
According to Shahram Sondi, Principal Broker at Florida Home Funding, with the increased mortgage rates that started this past summer, it is now more important than ever for mortgage companies/banks to focus on providing consumers with lower mortgage rates. This helps to increase monthly savings, which in turn allows for more disposable income for borrowers. The ability to help save money not only benefits the borrower but also enables them to have more money to spend which increases consumer spending and helps economic growth.
About: Florida Home Funding focuses on customer service by getting their clients the best possible rates combined with outstanding service and fast closings. For more information, call 407-704-8729 or visit http://flhomefunding.com/.