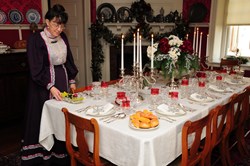 Because our heritage draws from so many different cultural backgrounds, we offer a holiday season that has no equal in the area.
(PRWEB) November 27, 2013
'Tis the season in the Valley Forge and Montgomery County area, when the historic sites, villages, inns, malls and more are dressed in their holiday best.
Pottsgrove Manor, once the Pottstown summer home of ironmaster John Potts, revives the Tudor tradition of celebrating Twelfth Night through January 12. The manor is bedecked in a full array of holly and ivy, and on December 8, visitors can witness a mid-winter celebration in full swing. Costumed interpreters demonstrate music and dancing in the parlor and a bustling open-hearth kitchen.
The former home of Pennsylvania Governor Samuel Pennypacker, Pennypacker Mills is wrapped in grand Victorian holiday style through January 5. Swirls of ribbons, candles, wreaths and greens fill this three-story Colonial Revival mansion. New this year is access to the kitchen and a servant's quarters. The open house on December 14 features Santa, costumed interpreters and a bell choir.
In the Pennsylvania Dutch tradition, ingrained in much of Montgomery County's heritage, Belsnickel is a fur-clad gift-bringing figure who arrives in advance of Santa to check up on children and their behavior at this vital time of year. Peter Wentz Farmstead revives the tradition on December 7 as part of its candlelight tours, which also include colonial music, seasonal decoration and holiday foods.
In the dark of November 29, hundreds of jolly celebrants will gather in Skippack Village to ooh and ahh at the sight of the towering Christmas tree, lit from tip to trunk. The happy highlights continue through December 21, in a series of Illuminaire nights when the sidewalks and pathways flicker in candlelight. On December 3, Skippack Village launches another first in its holiday traditions: a public menorah lighting.
At the John James Audubon Center at Mill Grove, the first home of the French-born artist/naturalist, the natural beauty of an outdoor December is brought inside to decorate. On December 8, the center's live owls will make it clear "who's" ready for the holidays. Cider, cookies, music and a scavenger hunt complete the afternoon's fun.
The Holiday Garden Railway at the Morris Arboretum chugs to life until January 5. Thousands of sparkling lights adorn a miniature village surrounded by a quarter mile track with model trains zipping in and out of tunnels, over bridges, and through the woods... all outdoors in the winter garden. The quarter-mile track has 15 different rail lines, two cable cars and nine bridges.
The grandiose Glencairn Museum becomes a centerpiece for the sacred celebration of Christmas. Visitors have until January 5 to view a fascinating display of nativities from around the world. The open house on December 8 adds refreshments and music to the mix, and a Christmas sing-along on December 17 invites visitors to belt out a hearty hark to all herald angels.
And speaking of singing, the carolers crafted by the artisans at Byer's Choice Ltd. are as distinct as they are traditional: lovingly created with sparking eyes and mouths open in song. Within the company's Olde Curiosity Shoppe, open daily until 5 p.m., these festive figurines can be seen completing their Christmas shopping, skating on a frozen mill pond and acting out holiday traditions from around the world.
Valley Forge Convention and Visitor Bureau President Bill Fitzgerald sums up the MontCo merriment: "Because our heritage draws from so many different cultural backgrounds, we offer a holiday season that has no equal in the area. The celebrations, decorations, lights, foods, dancing and other fun events are as unique as the various traditions that they reflect. Best of all, our local accommodations and restaurants had prepped down to the smallest detail to make sure that visitors have a spirited and memorable holiday season."
For information about celebrating the season in the Valley Forge and Montgomery County area and visiting for a day, an overnight or an extended weekend, see our website.