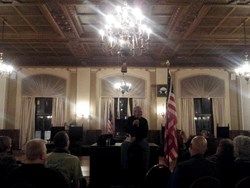 The series at the Lodge has been nothing but an absolute joy.
San Francisco, CA (PRWEB) November 27, 2013
Just days before Thanksgiving, a full crowd turned out at the San Francisco Elks Lodge for an enjoyable relaxed atmosphere. In the official Elks "Lodge room", Barry read numerous pieces from the book and answered questions from the audience. The guests were thrilled to have such an intimate setting with the renowned author and hung on his every word.
Kevin Hunsanger, owner of Green Apple Books has worked with Exalted Ruler Nasir Shakour and his wife Tina Shakour to help promote these events at San Francisco Elks Lodge. Says Hunsanger: "As an owner of Green Apple Books, organizing and hosting author events is an important part of my job, but the series at the Lodge has been nothing but an absolute joy. The authors love being here, and the guests - many visiting the Lodge for the first time - have been blown away by the beauty of the Lodge, as well as by the hospitality of Elks!"
Adding to the artistic nature of the event and the fun atmosphere, the band Royal Jelly performed during the night. Their blend of updated old-timey tempo and music was suitable for the Elks Lodge. The natural acoustics of the historic building adding a nice touch to the performance for both the band and the guests.
Proceeds from the event benefited the Bruno Pardini Elks Scholarship fund. The fund provides scholarships for exceptional high school seniors in the city of San Francisco. Says Tina Shakour of the Elks: "In these hard financial times, the scholarship program continues to be one of the most important things the Lodge does for our community."
Barry Gifford is the multiple award-winning author of more than 50 works of fiction, poetry and essays, as well as numerous screenplays. His novel Wild at Heart was adapted as a hugely successful film for David Lynch – the first of four films that the two have collaborated on. Barry has also been the subject of two film documentaries, and he possesses the kind of talent that lead The Los Angeles Times to call him 'a master' and Jonathan Lethem to say, "Barry Gifford invented his own American vernacular--William Faulkner by way of B-movie film noir… and Sun Records rockabilly." His current collection, The Roy Stories, is a 40 year chronicle of his personal history during the years of late 1940s through the early 1960s – think Hemingway's Nick Adams stories with a dollop of pulp and a gram of grit.
ABOUT THE SAN FRANCISCO ELKS LODGE: The San Francisco Elks Lodge is the oldest actively running Elks Lodge and proudly provides donations and services for many San Francisco children and veteran organizations. For more information, visit their website at sfelks.org or on Twitter @sfelks3.
ABOUT GREEN APPLE BOOKS: Green Apple Books preserves the value of real, paper books and is regularly voted the best independent book store in San Francisco. Visit them at 506 Clement Street or on the web at greenapplebooks.com