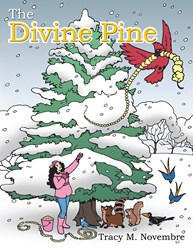 Always take a second glance at what seems to appear ordinary in nature.
Colts Neck, NJ (PRWEB) November 27, 2013
When people give freely from their hearts with a sincere approach, the universe always seems to give back.
In her new children's book "The Divine Pine," author Tracy M. Novembre refocuses the holiday season on learning to appreciate the simple things by acting with compassion.
"There is an enchanted transformation that occurs in the story, which encourages the observer to always take a second glance at what seems to appear ordinary in nature," Novembre said.
Memorable rhymes tell the story of a human character and her animal friends who together see a positive transformation during a time of crisis.
Rather than focusing on the grandeur of the season, "The Divine Pine" focuses on the beauty in the everyday.
Novembre, a life-long learner and nature lover, shares a story of kindness, compassion, spirituality and joy with readers both young and old.
"The Divine Pine"
By Tracy M. Novembre
ISBN: 978-1-4918-0747-7
Softcover retail price: $17.99
E-book retail price: $3.99
Available online at Amazon and Barnes & Noble
About the Author
Tracy M. Novembre holds a bachelor's degree in English from Rutgers University and is certified and licensed in paralegal studies, therapeutic massage and nutrition. Her love for animals and nature inspired her to write a story that delivers positive messages and valuable lessons to children. She currently resides in Colts Neck, N.J. with her family and many rescue animals.