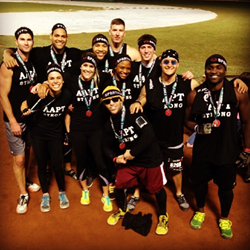 The energy in Fenway Park on race day was described by one AAPT staff member as electrifying!
New York, NY (PRWEB) November 27, 2013
AAPT entered an entirely student-organized team for the November 16th race, captained by AAPT graduate Ramon Garcia and AAPT student Johnny Loreti. On race day, the group assembled at Fenway Park wearing "AAPT STRONG" t-shirts, assumed Spartan aliases like Leonitis, Maximus, and Athena, and even chanted a team "Ahhhwooo!" at the starting line. They were among over 7,000 others who came to compete at Fenway Park. The Spartan Race—an international leader in obstacle course racing—hosts competitions all over the world that range in both distance and difficulty level, from faster 1- and 3-mile races, to mid-length 8- and 12-mile races, to even a 26+ mile obstacle marathon and a 48-hour extreme race. Fenway's "Spartan Sprint" boasted 3+ miles packed with over 15 obstacles designed to test the speed, power and agility of its athletic competitors.
The energy in Fenway Park on race day was described by one AAPT staff member as "electrifying." Crowds of excited spectators gathered throughout the stadium, holding signs, wearing team shirts and cheering on the thousands of Spartan competitors as they wove in and out of view to scale walls, heave cinderblocks, climb ropes, carry sandbags, crawl under wires, jump over stadium seats, throw spears, and battle their way to glory. Team "AAPT STRONG" finished in the top 10% of over 500 competing teams and plans to compete again next year for the top 5%. AAPT's owner and founder, Harry Hanson, commented, "I am very proud of this group and their awesome accomplishment. It's a fantastic testament to the type of strong and determined trainer and teammate that can be found in an AAPT graduate. I am excited to see what our students accomplish next year!"
AAPT is the only occupational school for personal trainers in the Northeast that is nationally accredited and offers Federal Student Aid, making a world-class education finally available to aspiring personal trainers. Those interested in an AAPT education may contact the school's full service admissions teams in either Boston or New York City.
Headquartered in NYC with a branch in Boston, AAPT's innovative hands-on curriculum combines equal parts classroom lecture and laboratory instruction, covering subjects including exercise science, customized programming, injury prevention and business planning.