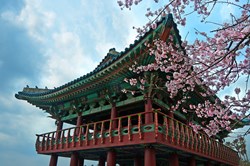 ...the return of mild weather lures everyone outdoors to enjoy the flowers, culture, fine food and promises of spring.
Glendale, CA (PRWEB) November 27, 2013
Cherry blossom season in East Asia usually brings one country to travellers' minds, which in turn brings flocks of photo snapping tourists to that country.
Just to the west, however, another Asian destination is pulling focus, along with travellers eager for new adventures. Much more than the home of K-Pop, Samsung and LG, South Korea saw its number of international guests increase by over 13% in 2011-2012. It's also an excellent country for blossom viewing – aka hanami – with festivals running from March to May throughout the country.
Hanami has a long history dating back to 8th century Japan, and has grown to become one of East Asia's most celebrated traditions, even practiced in the United States and some parts of Europe. In Korea, the return of mild weather lures everyone outdoors to enjoy the flowers, culture, fine food and promises of spring. The cherry blossoms are surrounded by apricot flowers, cornus fruit trees and other plants that thrive in the chilly March air.
While viewing festivals can be found throughout the country, Korea still has plenty to offer the traveller whose dates don't coincide. Under-sung Seoul is one of Asia's great cities on the rise, with 24-hour shopping and a range of historic palaces and shrines. Gyeongju is cultural Korea at its finest, with sights such as Bulguksa Temple and Seokguram Grotto, while the important port city of Busan offers Korea's largest beach and is a favoured seaside getaway for locals.
For those with more time, Jeju Island is an essential diversion. This laboratory of natural volcanic wonders has formed impressive lava tubes and a stunning array of wild flowers, all surrounding the spectacular volcano, Mount Halla. No surprise that the annual Cherry Blossom Festival continues day and night, offering a lively music and cultural program set against a kaleidoscope of wild flowers and orchids.
Goway Travel is offering two in-depth Korea tours in time for cherry blossom season.
Essential Korea is a 7-day trip that includes touring in Seoul, Gyongju and Busan, priced at just $1759 per person (twin share) for departure in March, 2014.
The 9-day Korea Highlights trip extends this itinerary to include Jeju Island and is priced at just $2885 per person. This includes group touring in Seoul as well as private tours at all other stops.
Since 1970, Goway has been providing unforgettable travel experiences to Africa, Asia, Australia and New Zealand, idyllic island destinations and Latin America. Today Goway is recognized as one of North America's leading travel companies for individuals, families and groups to select exotic destinations around the globe. Goway has offices in Los Angeles, Vancouver, Toronto, and Sydney (Australia).
For reservations and information, visit http://www.goway.com, call your Travel Professional or 1-800-387-8850.