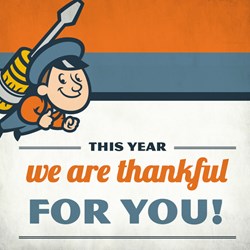 "Unfortunately, some of the focus on family during the holidays gets lost during the rush to get a limited-time deal. We want our customers to be able to enjoy the holidays..." - Doug Sheneman, president of Main Street Heating & Cooling
Bluffdale, UT (PRWEB) November 27, 2013
Black Friday is widely touted as the day to find the best deals of the year. However, companies like Main Street Heating & Cooling continually aim to prove that great service discounts can be offered year round.
Traditionally, Black Friday has been viewed as a day of truly volatile pricing changes. From door busters to heavily-discounted electronics, consumers are forced into a mad dash for the very best deals available. E-commerce sites have swayed a bit of that traffic with their online promotions, bringing about "Cyber Monday" in recent years.
However, businesses like Main Street are choosing a third path of premium offerings year-round, which allow customers to forgo the chaotic shopping and still enjoy a premium discount.
"Unfortunately, some of the focus on family during the holidays gets lost during the rush to get a limited-time deal," says Doug Sheneman, president of Main Street. "We want our customers to be able to enjoy the holidays with their loved ones, and not in a mad dash to grab a discount. That's why we make an effort to provide great deals all year-round."
To hammer home this ideal of affordable service and quality expertise, the Utah HVAC company is currently offering three distinct promotions. A free service call or system diagnosis for customers is especially helpful during the holidays for families taking on the added expenses that come with holiday gatherings and celebrations.
Main Street Heating & Cooling, based in Bluffdale, UT, was founded on over a decade of HVAC experience. They work with name brand appliances and nationally-certified technicians to service customers in the Salt Lake City region. Their company rests on a commitment to 100% customer satisfaction as well as timely, affordable service.