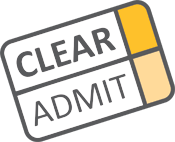 "With most top MBA programs Round 2 deadlines in early to mid-January, the time for reflection has come to a close. Now is the time for application action!"
Philadelphia, PA (PRWEB) November 29, 2013
The process of submitting an application, whether for a new job, scholarship or educational program, is always fraught with nerves and no small amount of stress. This is certainly the case for MBA applicants hoping to attend a top tier business school in order to scale the ladder and achieve corporate success. It's easy to be overwhelmed by the sheer variety of MBA programs, application requirements, and admissions criteria, let alone to pinpoint the optimal strategy for gaining admission to each school. Is your GMAT score competitive at your dream program? Are you choosing the right stories to tell in your essays? How can you ensure that your recommenders submit their letters on time?
Clear Admit, a leading MBA admissions consulting firm and resource for MBA applicants, recently reached out to its team of expert Admissions Counselors, many of whom have worked in the admissions offices at top MBA programs like The Wharton School and Chicago Booth, to compile a number of helpful tips and suggestions to help b-school applicants navigate this complex process.
In the resulting blog post, Clear Admit's Brett Haber, Heidi Grannner, Jon Fuller and Stacey Oyler all share insights that could help Round 2 MBA applicants get their affairs in order now that many have less than two months before they must click "submit" and hope for an "admit." International applicants, serial procrastinators, or just applicants who want to be sure they are putting their best foot forward—all can benefit from the information shared. The team's advice also covers effective strategies for managing recommendations and approaching the bevy of essay topics a typical applicant will face when applying to multiple schools.
***
Clear Admit is an authority on the business school admissions process and a leading publisher of MBA admissions guides. Founded by Wharton MBA graduates with extensive admissions experience, the firm has been featured in dozens of publications including Bloomberg BusinessWeek, The Wall Street Journal and The Economist. Clear Admit also provides admissions consulting services to business school applicants using a highly personalized methodology that combines the perspectives of MBA admissions officers, expert editors and MBA students to help maximize prospective applicants' chances for acceptance at top schools.