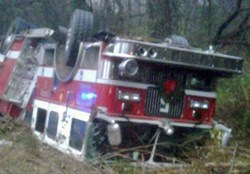 Lancaster, NY (PRWEB) November 27, 2013
Fire trucks are frequently involved in rollover accidents. Driver inexperience, speed, and vehicle weight imbalance all serve as contributing factors.
Furthermore, the crew on the truck could be at risk from unmounted gear and tools. Performance Advantage Company tools are tested and certified to 9G National Fire Protection Agency requirements as well as military Grade B shock testing.
Firefighters' most used tools are the "set of irons," or a fire axe and Halligan tool bar. PAC Ironslok is a proven method to retain both the axe and Halligan bar during major rollover accidents while also allowing a quick release at fire scenes. Non-corrosive materials are used to make the tools, and no sharp edges are exposed while the irons are housed. Ironslok can be mounted either vertically or horizontally. Cab occupants remain safe during a crash while the tools stay locked in the Ironslok. The strap comes in yellow, black, or orange, and like all PAC tool-mounting products, with a lifetime warranty as well.
Request PAC's latest catalog to see their complete line of tool boards and tool-mounting brackets. PAC maintains a large inventory so that most orders can be fulfilled quickly. Knowledgeable sales, engineering and technical support, installation and training representatives are available to assist customers with their needs. For more information about PAC, visit their website at http://www.pactoolmounts.com/ or call, 1-888-514-0083.
<br>About the company:<br>
Performance Advantage Company, established in 1992, is a privately-owned company that manufactures and markets high-quality tool-mounting brackets. PAC's primary market is the fire industry, providing specialty tool-mounting solutions for fire apparatus. Other markets include the military, law enforcement, EMS, utilities, and Homeland Security Department. PAC provides adjustable mounts, universal mounts, friction locking brackets, custom tool boards and more. A full list of their products and specifications can be found on their website. Performance Advantage Company is headquartered in Lancaster, N.Y., a suburb of Buffalo, and sells its products directly or through a worldwide network of dealers. Please visit PAC on the web for more information at http://www.pactoolmounts.com.