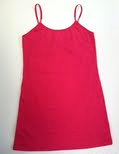 I just love the new Dry Babe Baby Doll! It looks great and really works to stop night sweats. - C. Thompson of Newport, RI
New York, New York (PRWEB) January 09, 2014
Dry Babe® warns women not to wear this garment unless they want some amorous attention from their partner.
Introducing the new incredibly stylish, absorbent, & dare we say S-E-X-Y, Dry Babe Baby Doll. You will love it most for how it works; your partner will love it for how it looks!
Dry Babe's new baby doll is light, pretty and comfortable and most of all super effective in absorbing night sweats and hot flashes.
The Baby Doll nightie comes in our new lighter fabric and in new fantastic colors or peony pink, sapphire blue and sunrise yellow.
Let's face it – going through menopause and perimenopause, we don't always feel our best. Whether we are in "hormone havoc" with our internal temperature rising and our mental temperature flaring or feeling washed out due to low energy, often times it helps to put on something that makes us feel good. The new Baby Doll from Dry Babe is a great choice.
With spaghetti straps and a scoop neck, this stylish baby doll falls above the knee in an elegant A-Line. Light as the breeze and made of 95% cotton & 5% lycra. In sizes Small, Medium, Large & Extra Large. $39 on http://www.drybabe.com/wicking-sleepwear-baby-doll-missy.html.