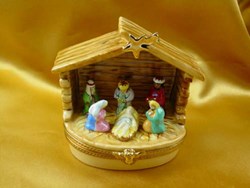 Fine Porcelain Christmas Limoges Collectibles
Tampa, Florida (PRWEB) November 28, 2013
LimogesBoutique.com is proud to announce the arrival of a large Collection of Rochard French Limoges boxes. The Collection features the finest quality porcelain craftsmanship and artistry with magnificent detailing and vivid colors in a variety of styles.
Every luxury Limoges Box gift from Limoges Boutique is superior in quality and workmanship. This outstanding collection will satisfy all high-end gift shoppers and Limoges collectors who are always looking for outstanding Limoges collectibles. All of the Limoges pieces on Limoges Boutique presents a unique back stamp, as well as the painted French alias "Limoges, France", which guarantees the authenticity of each Limoges piece and the source of its regional production. Limoges Porcelain collectible gifts from Limoges Boutique will esteem all consumers with its French artistry and marvelous elegance. The exquisite Limoges Boutique hand-painted porcelain box collection is enjoyed by all. French Limoges Boxes Boutique's are each made individually by hand. They design the mold, mix the porcelain ingredients, fire in the kiln, and delicately layer painting by hand adding the metal hinge fitting last. Every Limoges box offered in the Limoges Boxes Boutique collection is 100% guaranteed to be authentic and crafted entirely in Limoges, France. Each Limoges box bears the insignia of the artists as well as the designation "Peint Main" signifying that the Limoges box is painted by hand and "Limoges, France" as a guarantee of the Limoges being manufactured in the Limoges region of France.
French Limoges boxes are valuable keepsakes and are loved and collected worldwide. Royalties & superstars from all over the world have treasured Limoges Boxes Porcelain as a genuine treasure to have for all. Madame de Pompadour Josephine, the Empress of France and Alexander, Tsar of Russia, are some of the admired historical Limoges Box collectors. Porcelain Limoges boxes were formerly used to keep snuff, send love poems, give engagement rings, and other special trinkets between lovers and friends. These fabulous trinket box pieces were also used as make-up and powder boxes. Some Limoges Trinket Boxes even contained tobacco leaves. Limoges Boutique boxes follow a tradition of eminence and brilliance and make the perfect presents, holiday gifts, & collectibles. Limoges Boutique porcelain Limoges Boxes symbolize love and French romanticism. Limoges Boxes are often used to celebrate an event in one's life.
The Limoges Boutique Porcelain Boxes are all produced in limited editions quantities and numbered per production line. Their porcelain boxes are also finely crafted by hand-picked master artists in Limoges France. A Regal Proclamation in 1764 by Louis XVI has authorized the Porcelain Ateliers producing Limoges Porcelain within the city limits to have a royal label of quality & a French imperial title. Every Limoges piece sold by Limoges Boutique comes with a French certificate of authenticity. The phrase "Peint Main" indicates that the Limoges box is indeed painted by hand. Limoges Boutique only offers Limoges Boxes from authentic and reputable companies. Each porcelain piece from the collection is intricately hand-painted with inordinate detailing. Many of the pieces have stylish paintings inside and are often accompanied with a lovely accessory piece.
Limoges Christmas Boxes and Porcelain Figurines make magnificent French gifts and will compliment everyone's wardrobe and collection. Limoges trinket boxes are entirely hand-painted, and are formed into miniature hinged porcelain figurines. Limoges porcelain is a loftier kind of ceramic made of a precise pure white Kaolin clay. It is most often found in the volcanic area of central France, near the city of Limoges. The earthen porcelain mixture is molded into the desired shape, and then fired in a brick kiln. The city of Limoges in France is celebrated for creating the most optimum porcelain in the world. The production of each and every Limoges Porcelain Box is a laborious and time consuming process, that involves multiple firings and glazing. Hinged Limoges boxes are fine hand-crafted and hand-painted porcelain boxes that are fashioned in many different themes such as animal figurines, love, wedding cakes, monuments and little figurine shapes for holidays.
Limoges porcelain figurines, Limoges hinged boxes, Limoges jewelry chests, and Limoges dinnerware make excellent holiday gifts. These pieces make a perfect upscale luxury Christmas present and make incredible baby shower gifts. Another idea is giving them as wedding gifts because they are personal and compliment almost every theme as a favor you can imagine. Some other ideas in Limoges gift giving are birthdays, anniversaries, and Valentines day. In fact, Limoges boxes can be given during all of the holidays to simply express thankfulness to friends, family, and loved ones. Rochard Limoges Box designs include dog figurines, art, baby, cats, holiday, music, nativity, sports, hearts, travel, wedding, and zodiac.
LimogesBoutique.com is an authorized dealer and importer of all French Limoges lines and is the largest authorized distributor and retailer of the luxurious line of Rochard Limoges boxes. As one of the largest Limoges dealers in the US, LimogesBoutique.com offers thousands of Limoges boxes in hundreds of styles for every taste and budget. Excellent customer service, same-day shipping and competitive pricing, has made LimogesBoutique.com a most esteemed and trusted source for French porcelain Limoges boxes.