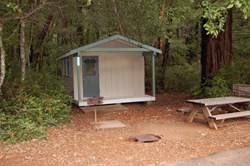 Santa Cruz Mountains, CA (PRWEB) December 02, 2013
Santa Cruz Mountains, CA
Before Little Basin was a campground it was a redwood forest. Just an hour from the Bay Area and part of Big Basin Redwoods State Park are world-class redwood nature experiences a family can enjoy all winter. After the summer crowds have gone, the park gets quiet and the wildlife comes out of hiding.
For a camping trip or a WOLF School field trip, in the campground—
Deer and turkeys graze on falling acorns and emerging grass on the meadow every day. Bobcats often move across the meadow in late afternoon or sit frozen above gopher holes in the field looking for a meal.
Migratory birds move through, and resident birds are active. Most recently, juncos took over the meadow madrone tree, and other small birds joined them to appreciate the ripe orange madrone berries. A pileated woodpecker and several hawks are seen most days, and smaller acorn woodpeckers can be heard at work all around the picnic area during the day.
Small rough skinned salamanders called newts come out after the rain moistens things up, and walk along the forest floor throughout the campground, and the tiny green and brown chorus frogs start to make noise and hop about the forest. Kids love watching the newts walk, and the frogs in action.
On the Trail—
To see more flora and fauna, head out on the trails that link Little Basin to Big Basin and beyond. Many types of plants are identifiable with a good guidebook, as they really get growing with the rains. Fauna like banana slugs, newts, and frogs are at their best in the moist winter.
Best of All—
It's easy to reach Little Basin--just an hour from San Jose (be prepared for a winding narrow road for the last 2 miles). Camping trips are a click away at Reserve America School field trips are affordable and available through WOLFSchool.org. Camping is easy in a cabin, even for "non-campers." The cabins have beds, lights, a small heater (bring extra blankets/pajamas/coat as it still gets cold) and the bathhouses have hot showers. Bring a sleeping bag, blanket, flashlight and a rain poncho. For meals, nearby (20 minutes away) Boulder Creek establishments offer family-friendly pizza, salads, burritos, burgers or vegetarian/vegan food. For tips on how to make the most of your winter redwood experience visit LittleBasin.org.
About Little Basin
Little Basin-previously the private retreat for Hewlett Packard - is a new addition to Big Basin Redwoods State Park through a partnership with the Sempervirens Fund and Peninsula Open Space Trust.
About Wolf School
The Web of Life Field (WOLF) School is an environmental education organization providing outdoor education experiences for students and teachers since 1989 at our Northern California campuses.