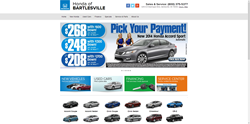 This is another opportunity for us to provide a better overall experience for our current and future customers. We always say, 'There's a better way to buy in Bartlesville!' - Hal Steinke
Bartlesville, OK. (PRWEB) November 28, 2013
Honda of Bartlesville unveiled its new user-friendly website in Mid-November. The new website comes in an effort to improve the overall customer experience.
"This is another opportunity for us to provide a better overall experience for our current and future customers," said owner Hal Steinke. "We always say, 'There's a better way to buy in Bartlesville!' It's a better way to save, a better way to buy and now a better way to shop online! This goes to show all of the enhancements we continually make to benefit our customers."
After a lot of thoughtful preparation and hard work, Honda of Bartlesville launched the new site in mid-November. The new website includes a bevy of upgrades including the following: a cleaner, crisper appearance, easy to use dynamic navigation, a user-friendly interface, visual dropdown navigation, easy to find specials and contact information, and customer testimonials. The overall design has been drastically improved to provide a better user experience and to generate 100 percent customer satisfaction.
For more information about the new Honda of Bartlesville website visit http://www.BartlesvilleHonda.com or call (800) 375-5377. Honda