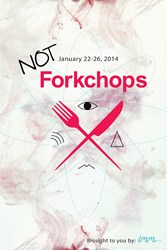 Toronto, Ontario (PRWEB) December 20, 2013
With two successful shows, imm Living's Not Forkchops is back! Not Forkchops encompasses the idea that we live in a country where worlds have collided, cultures of all kinds have merged, borrowing ideas from one, and adapting from another. Not Forkchops gives Canadian artists and designers the opportunity to showcase how the idea of cultural adaptation and adoption has influenced the work they produce, in a way that is elegant, contemporary and unique.
Unlike many other shows, where the attendees are simply there to observe, Not Forkchops requires the active participation of attendees. They hold the fate of the designers in their hands. Attendees will be able to cast a vote via our interactive voting system or online. The designer with the most votes will have the opportunity to collaborate with imm Living and work on a project that may see their product(s) sold on a global scale. This year we will be featuring designs by local artists and makers: Bettie Cott, Grace Lee, Hilary & Tim, Anneke Van Bommel, Kump & Lo, Jessica Ing who will explore the theme of "The Ultimate Dining Experience".
Lana Filippone, winner from imm Living's Not Forkchops 2013 design competition created a spectacular collection of ceramic corn on the cob holders, adding a touch of class and elegance to an act often deemed quite ordinary. By popular demand, the Dinosaur Cob holders will be made available in-stores for Spring/Summer 2014. Available in two styles, Tyrannosaurus Rex and triceratops, these corn holders will have the kids begging for their vegetables.
The imm Living team invites you and your colleagues to our Not Forkchops 2014 media and VIP day on Wednesday, January 22, 2014 at #Hashtag Gallery located on 801 Dundas Street West. In addition, Not Forkchops will also be a part of Do West by hosting a special event on Saturday, January 25th from 4pm to 6pm featuring food tastings by Jaime Dobbs from Sassy Lamb and Johanna Reynolds from Good & Best Cookies.
For further information visit http://www.imm-living.com/notforkchops or email at info(at)imm-living(dot)com.
About imm Living
imm Living creates modern cultural artifacts by drawing from traditional and popular cultures. Our products address notions of the past and present by playfully reminding us that culture evolves through experiences lived and shared. Our products are a synthesis of these experiences and we embrace as artifacts. For more information, please visit our website http://www.imm-living.com.