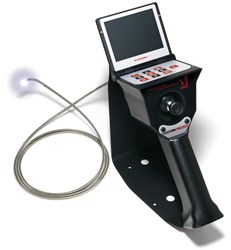 This was a great addition to our tool cage. We had it in use ten minutes after arrival and it's been busy ever since. Thanks, Sean!- Richard D., Aviation Maintenance Supervisor
Traverse City, MI (PRWEB) November 27, 2013
The National Business Aviation Association's largest event of the year took place last month in the lively city of Las Vegas, NV. As one of the largest tradeshows in the United States, over 25,000 attendees gathered at the annual convention. Companies of all kinds were there to show off their latest products and services to professionals within the various aviation communities.
RF System Lab has proudly exhibited their ground breaking VJ-Advance video borescope at the NBAA Annual Convention for the past few years. "The show has always been an outstanding sales and networking experience and allows people to actually place our borescope in their hands", said Edward Thomas, sales consultant for RF System Lab. The company prides itself on the unrivaled and intuitive operation of their borescopes.
The VJ-ADV is the most user friendly piece of remote visual inspection equipment found on the market today. Aircraft maintenance technicians can perform necessary inspections with ease using the many features of the VJ-ADV such as one hand operation, medical grade camera, and 4-way joystick controlled articulation. Call (231) 943-1171 or visit RF System Lab today and learn about our No-Cost Video Borescope Demo Program.