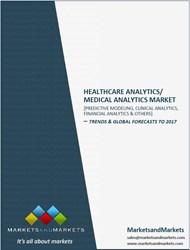 Rockville, MD (PRWEB) December 03, 2013
Healthcare Analytics & Medical Analytics Market (Predictive Modeling, Clinical Analytics, Financial Analytics & Others) - Trends & Global Forecasts to 2017
The healthcare analytics market is showing a double-digit growth due to supportive elements such as digitization of world commerce, the emergence of big data and the advance of analytical technologies. Healthcare organizations can differentiate themselves through data analytics. Factors such as, federal healthcare mandates, wide scope of predictive analytics and improvements in the financial and operative function are driving the installation of healthcare data analysis in hospitals. While the major concerns of this market are the security of data, privacy of individual patients and lack of manpower with cross-functional analytical skills. The healthcare analytics market is estimated to be $3.7 billion in 2012 and is growing at a rate of 23.7% from 2012 to 2017 to reach $ 10.8 billion.
Healthcare payers as well as the providers are leading the users of health care analytics for a range of functions from suggesting the most accurate diagnoses, cost reduction, fraud prevention, revenue generation, service improvement to real-time view of the business. The major driver for business analytics is the return on Investments (ROI), with a median of five years, from 10.0% to 1,000.0%.
To order this report:
Healthcare Analytics & Medical Analytics Market (Predictive Modeling, Clinical Analytics, Financial Analytics & Others) - Trends & Global Forecasts to 2017
Contact: Shauna
800.298.5699
Customerservice(at)marketresearch(dot)com
MarketsandMarkets
The MarketsandMarkets edge: Worldwide, market research reports are primarily sold for numbers, market segmentation and competitive landscape, within the business leaders.
About MarketResearch.com
MarketResearch.com is the leading provider of global market intelligence products and services. With research reports from more than 720 top consulting and advisory firms, MarketResearch.com offers instant online access to the world's most extensive database of expert insights on global industries, companies, products, and trends. Moreover, MarketResearch.com's Research Specialists have in-depth knowledge of the publishers and the various types of reports in their respective industries and are ready to provide research assistance.
Follow us on Facebook http://www.facebook.com/marketresearchdotcom
Follow us on Twitter http://www.twitter.com/marketresearch_
Healthcare Analytics & Medical Analytics Market (Predictive Modeling, Clinical Analytics, Financial Analytics & Others) - Trends & Global Forecasts to 2017 – Table of Contents:
1 Introduction
2 Executive Summary
3 Market Overview
4 Global Healthcare Analytics Market, By Application
5 Global Healthcare Analytics Market, By Component
6 Global Healthcare Analytics Market, By Delivery Mode
7 Global Healthcare Analytics Market, By End User
7.1 Introduction
7.2 Healthcare
7.2.1 Payers
7.2.2 Providers
7.3 Others
8 Geographic Analysis
9 Competitive Landscape
10 Company Profiles (Overview, Financials, Products & Services, Strategy, & Developments)