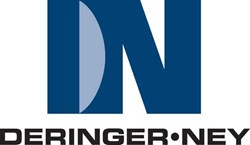 Vernon Hills, IL (PRWEB) November 27, 2013
Deringer Ney Inc. announces the release for production of a new electrical signal level contact. 70+ years of potentiometer sliding contact designs have been analyzed in order to offer a standard contact that our customers can design into their sensors. This new contact will eliminate the need for capital tooling and reduce barriers for our customer's entry into new position sensor programs.
The contact has been designed to provide 5 individual points of contacts per arm. History has shown that this number of redundant signal paths is the optimum blend of number of fingers to ensure high signal quality while maintaining a reasonable arm width for traditional sensor designs.
The contact is provided in two variations. One being a "Rake" tip design and the other being a "Knuckle" tip design. Beam lengths on both styles are identical. Fixation holes are of different diameters to ensure proper orientation on the mating part. A bend feature at the rear of the part can assist in locating the contact onto the mating part or be used as a feature to bowl feed the contacts into a production cell.
The contact is offered in many of DNI's alloy system, such as Paliney 6, Paliney 7, Neyoro G as well as these alloys in a Bi-Metallic configuration for additional cost savings.
About Deringer-Ney:
Deringer-Ney is a leading manufacturer of high performance precious metal alloys and parts used in semiconductor test, semiconductor fab, automotive sensing, medical device, electrical switching, and controls industries. The company employs over 350 people and has manufacturing plants in North America and Mexico. To learn more about Deringer-Ney, visit: http://www.deringerney.com/.