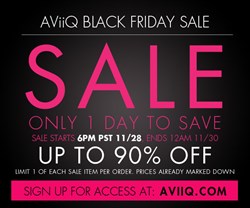 We are very excited to offer Black Friday deals for this limited time to give everyone a chance to enjoy our great award winning products at an unbelievable price.
Santa Ana, California (PRWEB) November 27, 2013
AViiQ, the premier mobile lifestyle brand with the most comprehensive line of mobile accessories for the daily traveler, is offering limited time doorbuster savings on nearly every product from phone and tablet cases to portable charging stations, cables and more this Black Friday only. From November 28th 6PM PST to November 30th 12AM PST, consumers who visit AViiQ.com will receive from 25% to 90% off a variety of accessories Apple, Android and other smartphone devices. Inventory is limited, while supplies last. These deals are so great that some products are limited to 1 per order so get them before they're gone. This is a private sale exclusive to AViiQ VIP Members who are subscribed the the AViiQ mailing list so be sure to sign up at http://www.aviiq.com to get a special access code to the private sale.
"We are very excited to offer Black Friday deals for this limited time to give everyone a chance to enjoy our great award winning products at an unbelievable price," said Alan Yeung, Founder at AViiQ. "It's our hope that everyone gets an opportunity to experience the mobile connivence and piece of mind that AViiQ products will bring to their mobile lifestyle."
AViiQ has products designed to meet all your mobile lifestyle needs, designed by travelers for travelers so it's ideal for both the daily commute and the intercontinental trips. AViiQ's deals this Black Friday Include:
Ready Clip Cables - The AViiQ Ready Clip is the ultimate USB mini cable, about the size of a pen at 5.5 inches and come in a variety of connectors including: Apple 30-pin dock, mini usb and micro usb. Ready Clips easily clip onto your bag or pocket for easy transport and their small size make tangled cables a thing of the past.
Quick Change 3-in-1 Cable - This USB short cable is an all-in-one mini USB cable (mini-USB connector), a micro-USB cable (micro-USB connector) and an Apple dock cable (30-pin iPhone / iPhone / iPad / iPod dock connector). It measures only 5.5 inches and has a unique clip feature for clipping it to your bag or pocket just like a pen.
Portable Charging Stations - AViiQ offers a great variety of portable charging station for travel charging and cable managements. From compact mini folios to robust Portable Charging Stations with batteries, there is a solution to match any travel needs. These charging stations are available in a variety of styles from Nylon to Genuine Leather and in a variety of color options to choose from.
Portable Power Banks - AViiQ's portable power banks offer a modern sleek minimalist design, soft touch feel, and 4600 mAh of battery life to recharge even your most demanding mobile device.
Portable Laptop Stands - AViiQ's bestselling and award winning portable laptop stands offer a patented design making it the most portable, thinnest and lightest laptop stand around. AViiQ laptop stands offer ergonomics to reduce wrist strain, improve posture and increase the life of laptops by increasing airflow for cooling.
iPhone 5/5S, iPad, iPad Mini and Galaxy S4 Cases
AViiQ offers a huge variety of phone cases for the latest devices including the best selling AViiQ Thin Series which is the thinnest and lightest iPhone 5/5S case on the market. AViiQ overs mobile phone and tablet cases in a variety of colors and styles including anodized aluminum, real natural wood, textured and durable poly carbonate, genuine leather, and fabric designs.
About AViiQ:
AViiQ adheres to the tenet that form should follow function.  Founded to create consumer mobile electronic accessories that maximize productivity through enhanced functionality and high-end design, AViiQ offers the finest in function and style.  Laptops revolutionized the computer world by adding the freedom of mobility and AViiQ transforms that freedom into power.  For more information about AViiQ please visit http://www.AViiQ.com 
For additional information on this and other AViiQ products, please contact AViiQ PR at alan(at)aviiq(dot)com or at (949) 515-8840. Follow us on http://www.facebook.com/aviiq for current social updates.