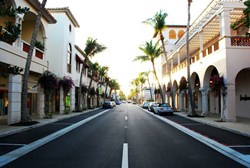 People are ready to put the real estate concerns of the last few years behind them and start investing in South Florida real estate again.
Palm Beach, Fl (PRWEB) November 26, 2013
The [Sun Sentinel recently interviewed Rick Bell of Bell's Landmark Custom Homes about a mansion he is building in the southwestern part of Broward County. The 24,000-square-foot estate will be a spec home, something that became extinct during the housing meltdown in South Florida. Bell said to the Sun Sentinel, "If you had asked me three years ago if I was building a spec home, I would say you would need your head examined."
A spec (or speculative) home is a home that is built without a buyer locked in. It is built on speculation that a buyer will be found for the property. Real estate analysts believe this is risky, whether the economy is in crisis or in an upswing.
At the start of the housing meltdown in 2008, there was an overabundance of properties and not enough buyers willing to take a risk and enter the market. The market hit its bottom early last year and things began to take a turn. Anyone who analyzes Palm Beach County real estate would be sure to say it is officially in recovery mode. The fact that builders are taking chances and building spec homes again is perfect evidence of this.
People are ready to buy now, they are ready to put the concerns of the last few years behind them and start investing in real estate again. This is especially true for those looking to buy in the luxury market. World-renowned motivational speaker, Tony Robbins, purchased a Manalapan spec home for almost $25 million earlier this year.
When Palm Beach Illustrated asked Robbins why he moved to Manalapan, he responded, "[In Palm Beach], it feels like you're in the Caribbean. I've got about 200 feet of oceanfront and 200 feet of the Intracoastal in the back. My wife has all the resources she wants: She could be shopping in 10 minutes, or she could go to Boca in 15 minutes. It's nice to go have Sprinkles ice cream or hop over to Nordstrom's. It's a beautiful area, and you've got everything you could imagine here. We really love it. We're excited about it."
The excitement and appreciation for South Florida that Robbins and his wife have, is common and this is exactly why builders are jumping back into speculation home projects. The demand is there for them.
Distinct Estates sells Manalapan homes as well as Tequesta, Palm Beach, and Hypoluxo homes and other highly-desirable areas all over Florida. Distinct Estates represents both buyers and sellers who are in search of their Florida dream home. The reputable Florida real estate agency is composed of highly experienced realtors who have received many accolades for their level of professionalism and results.