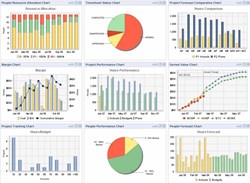 Dulles, VA (PRWEB) November 26, 2013
Unanet, a developer of services automation software that helps organizations manage people and projects for improved profitability, has announced a new web seminar on February 11, 2014 to explore the topic of what metrics are most common, and what metrics are most valuable, to Professional Services Organizations.
The webinar will review the recent report by PS Village titled 'Metrics that Matter - A Study of Real-World KPIs as Tracked by Leading PSOs'.
Unanet is a sponsor of PSVillage, which is a leading source of Technology Professional Services / Consulting advocacy; information and knowledge sharing; peer-to-peer networking; education; research and more. With a global membership of more than 3,000 professional services leaders—representing over 1,000 companies—PSVillage is the largest, long established, and most influential community of Technology Professional Services practitioners in the world.
Jonathan Reynolds, Unanet's Project Management Office Director, will lead the webinar and provide an understanding of how your business compares with other Professional Services Organizations (PSOs). You will hear best practices from Unanet customers based on experiences of Professional Services Automation software adoption. Unanet's customers come from sectors such as commercial consulting firms, internal IT organizations, universities, government contractors the non-profit sector.
In addition to a discussion of benchmarks and best practices, the essential contribution of Professional Services Automation software to support key PS processes will be demonstrated.
You can register for this no-cost webinar at: https://www1.gotomeeting.com/register/256678841.
Webinar attendees will receive a complimentary copy of the PSVillage benchmark report.
About Unanet:
Unanet is a leading provider of Cloud or On-Premise software for project-based organizations. Unanet delivers skills management, resource planning, budgeting & forecasting, time & expense reporting, billing & revenue recognition, and project management reporting. Over 1,000 organizations rely on Unanet to maximize staff utilization, reduce administrative costs by 90%, improve invoicing by 10X, and support forward decision-making for improved operations.