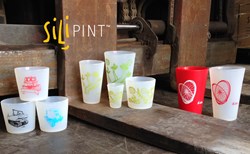 The Artists Series is a unique opportunity for us to engage our community and breathe fresh, original inspiration into gift giving.
Bend, Ore. (PRWEB) December 02, 2013
Lisa Smith and Adam Haynes, both artists based in Bend, Oregon, and Santiago Uceda from Portland, Oregon make up the first group of artists in Volume 1 of the Artist Series. Throughout 2014, Silipint will continue to showcase talent from across the globe while celebrating original thinkers, inventors and creators.
A limited quantity of the Artist Series Volume 1 designs are now available while supplies last at silipint.com, in addition to the variety of sizes, colors and designs of Silipint products as gifts for outdoor enthusiasts and beer, wine, coffee and tea drinkers of every type.
Silipint products are made from 100% food-grade material, printed with food-safe, silicone-based inks, and are guaranteed not to break, scratch, chip or fade. Products are BPA-free, dishwasher-safe, microwave-safe, freezer-safe, oven-safe, and insulate both hot and cold temperatures. The Silipint Travel Lid is dishwasher-safe and BPA-free, and made in the USA.
About Silipint™:
Silipint™ was born in beautiful Bend, Oregon in the summer of 2010. For Silipint's™ founder, Rick Fredland, innovation in everyday products began with introducing the pet industry to silicone travel dog bowls. Silipint's patented line of 100% food-grade, BPA-free, silicone cups and accessories are available through their website, a wide variety of retailers including REI and Cabelas, and ready to customize for your company, fundraiser or private party. All products offer naturally safe, durable and versatile solutions to those on-the-go. Silipint™ celebrates adventurous living, unbreakable spirits and a never-ending sense of fun. For complete information on Silipint, please visit http://www.silipint.com.