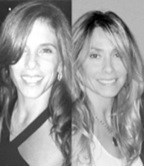 Coconut Grove, FL (PRWEB) December 05, 2013
The Haute Design Network welcomes Vivian Macia and Nikee Trespalacios of Fengtional Designers as the newest Haute Residence members for 2013. The team is known for their superior ability to mix classic and contemporary design elements in luxurious residential spaces and will serve as the network's exclusive representatives for Coconut Grove, Florida.
Vivian Macia and Nikee Trespalacios' professionalism, wide range of experience, willingness to meet the needs of clients and ability to flawlessly finish projects sets the precedent for other interior designers in the field.
About Haute Design Network
Haute Design Network selects interior designers that have demonstrated a high level of expertise, professionalism and accomplishment in their field. This elite circle of leading interior designers exposes readers to past and current design trends, future innovations and inspiration via Hauteresidence.com blogs and also offers exceptional resources for those seeking experienced luxury interior designers.
Fengtional Designers is featured on Haute Design Network's comprehensive website as a distinguished team alongside other leading interior designers from across the country. Visit the Haute Design Network at http://www.hauteresidence.com/design
About Fengtional Designers
Vivian Macia's art and interior design background has helped to develop her keen sense of color and eye for detail. Her knowledge of design principles, art elements and experience as an art teacher contribute to her knack for designing creative, unique and stylish spaces.
Nikee Trespalacios is well versed in Feng Shui and has served as a specialist for over 15 years. Nikee is known in her local community for her skills in placement and her ability to explore and analyze living spaces.
Feng Shui is the ancient Chinese art meaning "Wind and Water" that involves directing positive energy through a unique placement of elements in a living space.
Together, Vivian and Nikee unite design and Feng Shui under interior design firm Fengtional Designers and offer truly bespoke services. Fengtional Designers offers harmony, balance, beauty, comfort, style and function to your interior space.
For more information about Fengtional Designers, visit their Haute Residence profile.