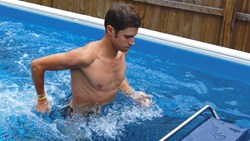 The [Endless Pool] gives the physio and fitness coach additional tools within their armory.
Chesterfield, Derbyshire, UK (PRWEB) November 27, 2013
The Chesterfield Football Club's new Community Hub has been a boon to both players and the local community alike.
The Hub, outfitted with an indoor football area, club room, fitness suite, multi-sports room, day care center and learning zones, also features an Endless Pool available for both players and the community.
"The players have been surprised with how hard they can work, enabling them to both recover from a specific injury and to help them maintain fitness in a way they could not out of the water," said Deputy Head of Trust & Education Manager, Kay Adkins.
"The treadmill has been a huge part of it being so successful for this group."
The buoyancy of water coupled with the underwater treadmill gives players an effective tool for rehabilitation from injury.
"The pool gives the physio and fitness coach additional tools within their armory. It also gives a safe option for recovery sessions during any given week."
Adkins, who researched hydrotherapy pools, was particularly impressed with the versatility of the Endless Pool.
"I identified the Endless Pool as an affordable option for providing therapy for the professional athlete through to the person with disabilities, while it also allowed people to get swim analysis. I was keen to fit swimming into our mix but we didn't have the room or the finance for a large pool."
It's not just the Chesterfield athletes who are benefiting from the unique exercise that the Endless Pool provides as fans and the local community are able to take advantage of the same elite training and exercise equipment that the squad uses.
"We already have a large number of groups who support people with severe disabilities who are using the pool," said Adkins. "They all absolutely love the flexibility the pool brings from movement therapy in the water to using the treadmill and propulsion unit."
Adkins is grateful that the club's pool is able to meet the needs of such a wide range of people, from football stars, to the severely disabled.
About Endless Pools:
Endless Pools, established in 1988, has shipped over 20,000 products worldwide, with customers such as Olympic Gold Medalist Alistair Brownlee. Their compact, customizable outdoor or indoor swimming pools can be installed for commercial or residential use. With a series of innovative products and an adjustable, fast, smooth swim current, the product can be tailored for open water training, rehab or family fun.
For more information, visit http://www.endlesspools.co.uk or contact Rob Shaeffer at 610-497-8676.