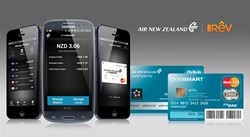 Austin, Texas (PRWEB) November 26, 2013
Rêv Worldwide, a payment innovations company and Air New Zealand announced today the launch of a mobile application for the OneSmart card program, available for iOS and Android users. The OneSmart mobile application is the only application that works in conjunction with the award winning OneSmart travel card program offering frequent flyer loyalty, purchase, and multi-currency conversion benefits.
"We are continually looking at ways to enhance the experience for our customers and expect the OneSmart mobile application to be popular as it not only recognises travel loyalty but is also convenient and easy to use," said Hamish Rumbold, Air New Zealand General Manager of Customer Value.
The Air New Zealand Airpoints™ card with OneSmart features has been issued to more than 900,000 New Zealanders and numbers continue to grow. OneSmart was the first airline loyalty membership card to combine payment functionality, real-time multi-currency exchange, and the ability to earn Airpoints when making purchases at select merchants throughout New Zealand. The OneSmart card can also be used at any ATM worldwide that accepts MasterCard and/or Maestro.
"We believe the OneSmart mobile applications will further deepen the relationship between Air New Zealand and its frequent flyer members and we are proud to deliver our latest and greatest financial and travel solutions to their customers," said Daryn Griggs, Senior Vice President of Rêv Worldwide.
Offering features to make the travel experience easier for Air New Zealand customers, the OneSmart mobile applications feature the following functionality:

Mobile multi-currency wallet, including real-time currency conversion of up to 8 foreign currencies
Simultaneous mobile account management of up to 4 foreign currencies, including balance(s) and transaction history with sort options
Mobile money transfers to any OneSmart Account holders via NZ mobile number
Ability to purchase Airpoints Dollars™, for the account holder or another Airpoints member, directly from the OneSmart Account balance
Other features available on the applications include:
OneSmart MasterCard virtual card for purchases
Airpoints loyalty membership number and balance
Real-time transaction alerts on balance and account transactions
Bank transfers for convenient load
Report lost/stolen security feature
Bank of New Zealand (BNZ) is the issuer of the OneSmart Account. Terms and Conditions, and fees apply - see http://www.airnewzealand.co.nz/onesmart. The OneSmart card is only available to persons residing in New Zealand.
###
About Rêv Worldwide
Dedicated to driving widespread commercial availability of innovative financial services around the world, Rêv Worldwide helps partners rapidly and effectively access hard-to-reach markets enabling consumers to make affordable, safe and convenient financial transactions. Rêv's full range of integrated mobile and prepaid debit solutions – including Rêv-branded, co-branded and affinity payment products – are issued by banks, powered by its multi-language, multi-currency processing platform, and delivered by partners and directly to consumers through its growing global retail, online and mobile networks. Rêv is headquartered in Austin, Texas and operates in North America, Latin America, Europe and Asia-Pacific. Learn more at http://www.revworldwide.com.
About Air New Zealand
Air New Zealand, a member of the Star Alliance, is recognised as one of the world's leading airlines, and one of the most innovative businesses in the aviation industry. Air New Zealand was awarded the prestigious title of Air Transport World Airline of the Year in both 2010 and 2012, the first time in the nearly 40-year history of the awards that an airline has achieved this twice in three years. In the past decade Air New Zealand has won more ATW awards than any other airline. Air New Zealand delivers uniquely Kiwi journeys to more than 13 million passengers who fly to, from and within New Zealand each year. The airline operates more than 4,000 flights each week, connecting customers to 26 destinations within New Zealand, Australia, the Pacific Islands, China, Japan, Canada, USA and the United Kingdom. Air New Zealand has a fleet of 103 aircraft, employs more than 11,000 staff and plays an important role in the New Zealand tourism industry and community through its sponsorship and philanthropy efforts. Large sponsorships include the All Blacks rugby team, the New Zealand Department of Conservation and Antarctica. For more information about Air New Zealand, visit http://www.airnewzealand.com, and for more information about Star Alliance, visit http://www.staralliance.com.
Media Contacts
Rêv Worldwide
Bertrand Sosa
bertrand(dot)sosa(at)revworldwide(dot)com