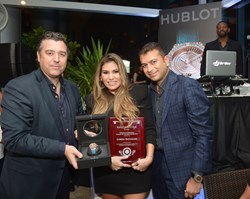 Greensboro, N.C. (PRWEB) November 26, 2013
Internet mogul Loren Ridinger, Market America | SHOP.COM Senior Vice President and creator of the award-winning Motives Cosmetics makeup collection, was named Haute Living Miami's "Woman of Substance, Woman of the Year" for 2013.
Ridinger accepted the award, presented by CEO of Haute Media Group Kamal Hotchandani, at a star-studded event at the world-renowned ZUMA Miami at EPIC Hotel overlooking Biscayne Bay.
Ridinger was joined at Wednesday's event by her husband, Market America | SHOP.COM President and CEO JR Ridinger; daughter and creator of the luxury skincare line Lumiere de Vie Amber Ridinger-McLaughlin; and her husband Duane McLaughlin, co-creator, along with his wife, of the DNA Miracles and DNA Miracles Natural line of baby and child care products.
Also in attendance were actress Gabrielle Union, wife of Miami Heat star Dwayne Wade; model and fashion icon Adrienne Bosh, wife of Miami Heat star Chris Bosh; actress Larsa Pippen, wife of Basketball Hall of Famer Scottie Pippen; actress and philanthropist Jenine Howard, wife of former Miami Heat star Juwan Howard; actress and singer Shannon Allen, wife of Miami Heat guard Ray Allen; former Major League Baseball All-Star Cliff Floyd and his wife, Mary; and Janice Combs, mother of music mogul and businessman Sean "P. Diddy" Combs.
"I am so honored to receive Haute Living Miami's 2013 Woman of Substance, Woman of the Year Award," Ridinger said. "To me, this award is about being able to inspire, influence and empower everyone to make an impact and to live life to their fullest potential. It is one of the greatest compliments I can think of, and I am deeply humbled."
Haute Living Miami Magazine recognizes Women of Substance, chosen for their outstanding qualities in leadership, business, and philanthropic work. In presenting the award, Hotchandani noted not only Ridinger's entrepreneurial successes, but also her generosity and drive to give back through charitable endeavors, including Rally for Kids with Cancer, American Heart Association, the Make-a-Wish Foundation and many others.
"Women of Substance have a well-balanced dynamic of success in business paired with a passion for charitable endeavors," said Hotchandani. "Loren Ridinger embodies these traits like no other."
In addition to the award, Ridinger was presented with a limited edition timepiece from fine watchmaker Hublot, which co-sponsored the Nov. 20 event. The Big Bang Caviar Lady 305 Limited Edition, an 18k gold timepiece engraved set with 36 sparkling blue topaz gems valued at nearly $38,000, was presented to Ridinger by Hublot Americas President Rick De La Croix.
ABOUT LOREN RIDINGER
Loren Ridinger is the Senior Vice President of Internet retailing giant Market America |SHOP.COM, as well as the creator of the award-winning cosmetics line Motives® by Loren Ridinger. Recently, Loren collaborated with La La Anthony, entertainer and star of VH1's hit series "La La's Full Court Life" to create the Motives for La La product line that encompasses beauty in every shade.
Loren is also the founder of the exquisite jewelry collection, Loren jewels (http://www.lorenjewels.com) and the high-end costume jewelry line Loren Rocks, available in the UK at House of Fraser stores and soon online at http://www.houseofFraser.co.uk. Loren Rocks features Swarovski crystals and is inspired by Loren Jewels. Loren also created of the uber-luxurious and widely successful skincare line Cellular Laboratories® as well as the solution-oriented product line Fixx™.
An Internet mogul who has been changing the face of the beauty industry and Internet shopping for 20 years, Loren has been named one of Vogue's Top 100 most influential women and honored by Cosmo for Latinas for her outstanding achievements. Her outstanding business accomplishments were also recognized when Loren was named Woman Extraordinaire in 2010 and Top 50 Entrepreneurs by Business Leader magazine in 2009 and 2010. She was selected by Haute Living Magazine as one of New York's and Miami's most influential people and recognized by Fashion Group International for her contribution to the fashion and beauty industry.
Loren's passion to help others has led to her involvement with many charitable causes including Rally for Kids with Cancer, which she co-chaired with Eva Longoria; the American Heart Association, from whom she received the 2010 Big Heart Humanitarian Award; Earlier.org; the Make-a-Wish Foundation; the Jennifer Lopez Foundation; the Cystic Fibrosis Foundation; the Rush Philanthropic Arts Foundation; and many others.
Loren conveys her award-winning style, fashion and inspiration to women everywhere through her personal blogs, http://www.LorensWorld.com and http://www.MyFashionCents.com. She is also a noted social media guru, connecting with her fans via Facebook (facebook.com/lorenridinger), Instagram (instagram.com/lorenridinger) and Twitter (twitter.com/lorenridinger), where she has more than 721,000 combined followers.
ABOUT MARKET AMERICA, INC. & SHOP.COM
Market America, Inc. is a product brokerage and Internet marketing company that specializes in One-to-One Marketing. Its mission is to provide a robust business system for entrepreneurs, while providing consumers a better way to shop. Headquartered in Greensboro, NC, the company was founded in 1992 by President and CEO JR Ridinger and has generated $4.3 billion in accumulated sales. Market America employs nearly 700 people globally with operations in the United States, Canada, Taiwan, Hong Kong, Australia, United Kingdom and Mexico. Through the company's shopping website, SHOP.COM, consumers have access to over 40 million products, including Market America exclusive brands and thousands of top retail brands. By combining Market America's entrepreneurial business model with SHOP.COM's powerful comparative shopping engine, Cashback program, Hot Deals, social shopping integration and countless other features, the company has become the ultimate online shopping destination.
For more information:
United States: http://www.marketamerica.com or http://www.SHOP.COM
Mexico: http://www.marketamerica.mx or http://www.MX.SHOP.COM
Canada: http://www.marketamerica.com or http://www.CA.SHOP.COM
ABOUT HAUTE LIVING MAGAZINES
Haute Living is a leading network of luxury lifestyle publications, with bimonthly regional editions in New York, Los Angeles, Miami, and San Francisco. They currently publish 24 magazine editions per year from their Miami headquarters.
Haute Living Magazine's goal is to provide editorial content that is as sophisticated as their readers. With a strong editorial focus on inspiring power players and unstoppable business moguls alongside intriguing editorial on "toys for boys" (private jets, mega yachts, supercars, timepieces, and more), Haute Living is targeted towards those who desire and have the means to experience the finest things in life.
###