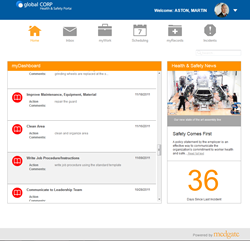 By giving employees a one-stop shop to participate in health & safety, organizations will benefit from better data quality, effective EHS event management, and a more informed and engaged workforce. - Stan Marsden, CTO and EVP, Medgate Inc
(PRWEB) November 27, 2013
Medgate Inc., the leading global provider of Environmental, Health and Safety (EHS) software, today announced the launch of the Portal, a new stand-alone module offered as part of the company's GX2 software product. This employee-focused module acts as a central access point for workers to interact with their organization's health centers and monitor and complete EHS-related tasks.
Via the Portal, employees can schedule appointments with health centers, review medical records and results online, and correspond directly with their occupational health practitioners. They can also submit safety / environmental incidents or events for investigation, view and manage actions they've been assigned, and view and complete any required EHS-related questionnaires. This is all done through a user-friendly interface that is simply accessed using an internet browser and secure login.
"Driven by the need of real-life EHS professionals, the Portal exemplifies Medgate's continuous commitment to innovation in EHS software," states Stan Marsden, Chief Technology Officer and EVP at Medgate Inc. "By giving employees a one-stop shop to participate in health & safety, organizations will benefit from better data quality, effective EHS event management, and a more informed and engaged workforce."
The Portal module is offered in Medgate's GX2 product, an enterprise web-based EHS software solution. Once an employee enters data in the Portal, it is fed to the core Medgate GX2 application, where EHS professionals can collect, analyze, and act on it as needed. They can also use the portal to communicate with and assign tasks to employees.
About Medgate's EHS Software
Medgate is the leading global provider of environmental, health, and safety software. Designed by industry experts, The Medgate application includes five core product suites: occupational health, safety, industrial hygiene, environmental, and ergonomics.
Available in multiple languages, Medgate software is used across the globe in hundreds of the best known corporations and government entities. Its latest product release, GX2, incorporates powerful new business intelligence reporting tools, as well as enhancements to its occupational health, safety, environmental and industrial hygiene software suites.