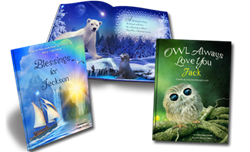 Christmas is a magical time of year for children and we believe in making memories that they can carry through their whole lives. - Margo Redfern, CEO flattenme
Los Gatos, CA (PRWEB) December 02, 2013
As another Christmas draws near, the usual corporate products and marketing campaigns are starting to filter onto the radar, encouraging people to part with their money and purchase disposable gifts that quite possibly won't see next Christmas.
In a bid to break away from generic Christmas gifts on the market, Flattenme.com is encouraging people to bring back the sentimentality that is supposed to go hand in hand with the Christmas holiday with their new Gift Guide.
The Flattenme.com store offers a plethora of personalized presents for children that can be kept as beautiful keepsakes for years to come, allowing them to always remember this special time of year.
With everything from stunningly created books to cool t-shirts and water bottles to cards and wall art, the living can be filled with tailor made presents on Christmas morning, made especially for the recipient.
Flattenme's books teach children everything from potty training to their ABC, and do so by featuring their name and photo throughout the story, allowing the book to be all about them, enhancing the learning experience.
Children can become a walking, talking piece of real life art by wearing a personalized t-shirt with their face on it, allowing them to be everything from a rockstar to a princess or even have somebody else's faces emblazoned across their chest as a tribute to their living hero.
Personalized water bottles are perfect for kids who are on the move; they can take them to school, on bike rides or to the beach, the list is endless!
Flattenme prides itself on delivering high quality products that aren't throwaway; they are designed to last and be carried through a lifetime, holding memories of childhood for the owner and acting as a gift that is sentimental in more ways than one.
Blurring the lines of imagination and real life, Flattenme pushes the boundaries of personalization and uses this process as an innovative way to get children's brains ticking over.
Flattenme CEO Margo Redfern said: "Christmas is a magical time of year for children and we believe in making memories that they can carry through their whole lives.
"With our personalized gifts, we want to take the generic element of gift giving out of Christmas, and re-inject the sentimental factor that very often gets overlooked in the modern day Christmas holiday.
"Our gifts are designed to be kept as mementos for years to come; every time they pull out their gift, they will remember the Christmas that they received their personalized present."
Flattenme.com is the online destination for personalized books and gifts, ideal for holiday gifts, birthdays, back to school, or just to say 'I love you'. Magically transform your child into a superstar in their very own custom book or gift.