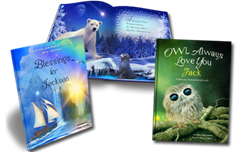 "It is also very important to remember the gifts that will become a keepsake that can be read to their own children many years from now." -Margo Redfern, CEO flattenme.com
Los Gatos, CA (PRWEB) December 09, 2013
When it comes to Christmastime, one of the most favorite pastimes of the holiday is the exchanging of gifts and trinkets with friends and family members.
However, as years have gone by, some of the more traditional and sentimental presents have been replaced by fancy gadgetry such as games consoles, laptops, cell phones and e-books that don't even have a cover!
Flattenme.com has the perfect book that aims to bring a little bit of tradition back to gift giving, with an added twist that will make it stand out as a favorite present for years to come.
'Owl Always Love You' or 'Blessings for You', new personalized books by New York Times bestselling author, Robin Spizman, is a wonderful holiday present that will inspire children to read, rather than a control pad laced with wires and buttons.
Unlike traditional story books, the 'Owl Always Love You' and 'Blessings for You' personalized tales allow children to be the star of the story by placing their name on the very pages that make up the book. The child's eyes will be drawn to the detailed pictures that promise absolute visual delight to accompany the comforting rhyming verse.
Compiled to help them fall into a peaceful slumber, these custom books instill Mom and Dad's love into a child, meaning they can fall asleep feeling safe, secure, and most importantly, content.
When the need for bedtime stories dwindles, the book can be kept as a precious keepsake etched with memories of happy dreams and a childhood fueled with the love of their parents, an irreplaceable memory that can be carried through to adulthood.
Flattenme CEO Margo Redfern said: "While gadgets are great for a gift, it's a gift that will not be treasured and remembered for the 18 months beyond its use. It is also very important to remember the gifts that will become a keepsake that can be read to their own children many years from now.
"Personalized books are a book that bring a little bit of tradition back to gift giving, as well embodying the main reason why parents give presents to their children; because they love them."
Flattenme.com is the online destination for personalized books and gifts, ideal for holiday gifts, birthdays, back to school, or just to say 'I love you'. Magically transform your child into a superstar in their very own custom book or gift.