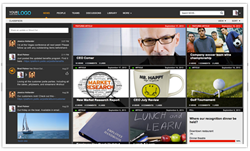 To succeed in the workplace, it is critical to help companies engage and align employees. - Brad Palmer
Vancouver, BC (PRWEB) November 27, 2013
Jostle's CEO and co-founder Brad Palmer knows what it takes to stand apart in a crowded social enterprise marketplace. And it isn't a Facebook approach.
Jostle is a new kind of social intranet platform that makes it easy for organizations to connect employees, facilitate teamwork, and drive their culture. First-generation social enterprise deployments are consistently failing because they don't fit the workplace. Facebook-like approaches create unwanted communication noise and do not work in busy, multi-generational workplaces. Instead Jostle focuses on keeping things simple and work-relevant, helping employees share successes, find information and uncover expertise when they need it.
"It's not about social for social's sake. To succeed in the workplace, it is critical to help companies engage and align employees," said Palmer. "We don't believe software should disrupt the workplace, or force big changes in the way people interact and make decisions. Rather we want to help employees find the information and connections they need to get their work done, and help them feel part of an extended team accomplishing things together."
Testament to Jostle's innovative approach is the recent attention they have attracted in the last month. Jostle was chosen as a member of the "100 club" by the distinguished SVC2UK organization in the UK—a rigorous selection process that determines the "CEOs likely to build global businesses worth £100 million in the next three to five years." Just a few weeks later, Jostle was selected by the C100 to the '48hrs in the Valley' program. The flagship mentorship program is put on by the C100, a non-profit, member-driven organization that supports Canadian technology entrepreneurship.
With a customer count that has increased seven-fold year-to-date, and user engagement rates that are 3X industry norms, the Vancouver startup shows no signs of slowing down.
About Jostle
Jostle's cloud-based People Engagement® platform is a next-generation intranet that helps organizations around the globe enable their employees and drive their culture, in simple and engaging ways. Jostle's innovative approach results from an experienced team that brings three essential ingredients together – enterprise leadership, user experience design, and web-enabled software architecture. To learn more, visit us online at http://www.jostle.me.