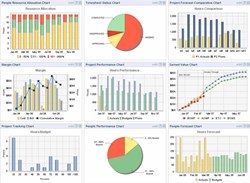 Dulles, VA (PRWEB) November 27, 2013
Unanet, a developer of services automation software that helps organizations manage people and projects for improved profitability, has announced that it is expanding its national and local presence with new sales and professional services hires in San Diego, California.
The new employees bring extensive local industry knowledge to the Unanet team, and join existing Unanet professional services staff located in southern and northern California as Unanet continues its growth nationwide.
More than 1,000 organizations have adopted Unanet, from project-based businesses such as government contracting, professional services, product development, internal IT organizations, and the non-profit sector. In the San Diego area, Unanet has many clients in the government contracting, consulting and biotech sectors in particular.
Erik Erlendsson joins Unanet as a Director of Business Development. He previously held a number of positions as an IT Executive in the Telecommunications, Wireless Communications, Retail, and Government Contracting Sectors. Additionally, he has been involved in the start-up of a successful Sales and Marketing Consulting Company serving the Consumer Electronics industry, and held executive positions maintaining profit/loss responsibility for Manufacturing Divisions in the Defense Sector, where he served as the primary Business Development resource. Erik also served in the U.S. Navy for eight years as a Naval Aviator, during which time he managed numerous programs.
Cathy Wright joins the Unanet Professional Services team as a Senior Consultant where she will lead implementations of the Unanet services automation software with customers. Cathy's experience includes working as controller with a local government contractor, and with various market leading accounting systems.
About Unanet:
Unanet is a leading provider of Cloud or On-Premise software for project-based organizations. Unanet delivers skills management, resource planning, budgeting & forecasting, time & expense reporting, billing & revenue recognition, and project management reporting. Over 1,000 organizations rely on Unanet to maximize staff utilization, reduce administrative costs by 90%, improve invoicing by 10X, and support forward decision-making for improved operations.