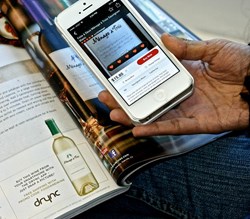 New York, NY (PRWEB) December 02, 2013
In the spirit of the upcoming holiday season, Drync—the free iPhone app that allows users to find, track, share and purchase wine—is excited to announce it has teamed up with FOOD & WINE magazine to enable readers to instantly buy any wine featured in the 2013 Essential Holiday Party Planning Guide by simply taking a photo of it in the magazine with the Drync app. The issue is now available on newsstands.
FOOD & WINE's annual party-planning guide features six pages recipes made especially for holiday entertaining with thoughtful wine pairings for each dish. In the issue, readers can scan any of the six suggested wines directly from the magazine and purchase them instantly through the Drync app.
This innovative approach to print advertising uses image-recognition technology to match the featured wines to Drync's robust database of 2 million wines. Details on each wine are provided in seconds, including winemakers' notes, collaborative ratings, and product pricing. Orders are securely placed through the app and wine is shipped directly to the consumers' doorsteps. FOOD & WINE readers also receive a special promotion code for free shipping through the end of the year.
"We are thrilled to be using the Drync app to connect FOOD & WINE readers with featured content, in an interactive and actionable way," said Brad Rosen, CEO of Drync. "We are bridging the gap between wanting to remember and buy a wine, and actually being able to do it quickly and easily."
About Drync
Founded in 2008, the Boston based app developer has become one of the largest mobile social networks for wine drinkers, with over 500,000 users. Drync is the first mobile app that allows consumers to find, track, share, notate and purchase wine at the moment it is most relevant to them – while they are drinking it. The Drync app recognizes most wine labels within seconds, using state-of-the-art image recognition and a database of over 1 million label images, and in August 2013, in expanded its reach to consumers in 41 states. The elegant and intuitive iOS mobile app allows consumers to quickly and easily purchase the wines they love on their mobile phones for home delivery. Drync is currently available on iPhone and will soon be available for Android users with an expected release of mid-December 2013. For more information, please visit: http://www.drync.com
About FOOD & WINE
FOOD & WINE is the ultimate authority on the best of what's new in food, drink, travel, design & entertaining. Founded by American Express Publishing, the luxury-lifestyle experts, FOOD & WINE has an extensive social media following on Facebook, Twitter, Instagram, Pinterest, Tumblr and Foursquare. FOOD & WINE includes a monthly magazine; digital editions on the iPad, Kindle Fire and Nook Color; a books division; a website, foodandwine.com; plus newsletters, clubs, events around the globe and a restaurant partnership, Chefs Club by FOOD & WINE.
# # #