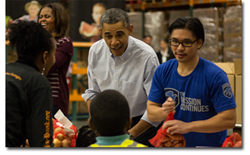 The kids were just thrilled and the President sent a powerful message on behalf of those struggling with hunger in difficult times."
Washington, DC (PRWEB) November 27, 2013
Hundreds of children and seniors from throughout the Washington metro area visited the Capital Area Food Bank the day before Thanksgiving to receive special food for the holidays. Imagine their surprise when they were greeted by President and Mrs. Obama, their daughters, Sasha and Malia, and the First Lady's mother, Mrs. Robinson who were distributing food that day.
Before volunteering, Barack Obama greeted food bank staff with gratitude for their work year-long. "Thank you for the great work that you're doing. And now you're going to put me to work, right?"
"Oh, God, you don't know how happy I am," said Sandra Cooksey from Seabury Resources. Her friend, Renee Denner, remarked, "It was such a special surprise. We thought it would be a turkey and it was the President."
Joining the Obamas in distributing food to kids and seniors, were members of the The Mission Continues, an organization composed of post-9/11 veterans who are awarded community service fellowships.
"We are grateful to the President for setting such a great example by volunteering at the Capital Area Food Bank for the third year in a row," said Nancy E. Roman, President and CEO of CAFB. Roman said the kids shouted their thanks and some of the seniors wept. "The kids were just thrilled and the President sent a powerful message on behalf of those struggling with hunger in difficult times."
Today's food recipients regularly participate in seven of CAFB's 500 partner agencies in the region: Avondale Manor, Hyattsville, MD; Park Forest, Oxon Hill, MD; ALIVE, Alexandria, VA; and DC Office on Aging; Seabury Resources for Aging; Frederick Douglass; and The Salvation Army, all located in Washington, DC.
Those invited to the CAFB for today's White House surprise regularly participate in three established food bank programs. Some 3,226 seniors are served by the Senior Brown Bag program, receiving monthly bags of food and nutrition information at 72 area locations.
Children benefit from the food bank's Kids Cafe program that serves an average of 2,800 children in 80 locations in recreation, religious and community sites and the Weekend Bag program that provides supplemental groceries for children to take home to their families. The bags are normally packed by some 21,000 annual volunteers at the food bank and delivered by CAFB trucks to the partner agencies, or sites designed to serve children.
A recent survey of CAFB partner agencies revealed that they are experiencing a 30 to 200 percent increase in those they serve since the beginning of the recession.
Roman emphasized, "We are facing a hunger crisis in the region and throughout the nation. One in every three children in the nation's capital is at risk of hunger – that's 150,000 children in the region we serve – the District, Northern Virginia and Prince George's and Montgomery counties in Maryland. Our 500 partnerships with the community over the years have been central to our role in educating, empowering and enlightening our neighbors about the issues of hunger and nutrition. We depend on the community's continued support as we work to serve others. Together we can solve hunger."
The Capital Area Food Bank, a member of Feeding America, was founded on January 15, Martin Luther King Jr.'s birthday, in 1980 and takes a comprehensive approach to addressing hunger by increasing access to nutritious food, initiating change through skill-building and advocacy and creating sustainability with outreach and training for those at risk of hunger. The CAFB distributes annually 45million pounds of food annually, half of which is fresh produce, and is the Washington metro area's largest food and nutrition education nonprofit.