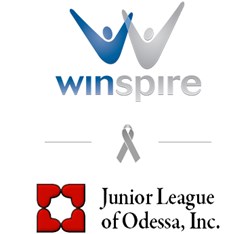 "I have been in the nonprofit business for over 20 years and I have NEVER partnered with such an amazing organization like Winspire." - Executive Director Lyn Giesler
Odessa, TX (PRWEB) November 27, 2013
The Junior League of Odessa held their 31st annual "Merry Marketplace" fundraiser earlier this month from November 7-10, 2013 at the Ector County Coliseum. The Christmas-themed event drew over 10,000 people over three days and grossed more than $325,000. The Preview Party, a black tie optional celebration designed to kick off the event, had one of its most successful live auctions in the history of the event, thanks in part to the inclusion of Winspire Experiences that were included as no-risk auction items in the event.
Winspire partnered with the Junior League to provide four exclusive travel packages that were sold a total of 9 times and helped them raise more than $35,450 for their cause. The Winspire Experiences included airfare and a hotel stay to various award shows, shopping sprees and Broadway shows across the country.
"The profit our Junior League of Odessa made from these trips was 3 times what was made on our Live Auction last year!" Executive Director Lyn Giesler said, "I have been in the nonprofit business for over 20 years and I have NEVER partnered with such an amazing organization like Winspire and Karen Holine (Winspire Event Consultant). We will definitely be back next year…if not before!"
About Junior League of Odessa
The Association of Junior Leagues International Inc. is an organization of women committed to promoting voluntarism, developing the potential of women and improving communities through the effective action and leadership of trained volunteers. Its purpose is exclusively educational and charitable. Through the power of their association, Junior Leagues strengthen communities by embracing diverse perspectives, building partnerships and inspiring shared solutions. For more, visit: http://www.jlodessa.org
About Winspire
Winspire provides unique once-in-a-lifetime travel Experiences for nonprofits to use in benefit auctions or charity fundraisers. This increasingly popular fundraising tool allows organizations to place exclusive travel packages in their fundraisers without any upfront cost. Since organizations purchase only those packages they sell, Winspire Experiences can be used with no risk at live auctions, silent auctions, raffles and any number of fundraising events.
Since 2008, Winspire has been involved in more that 25,000 events and helped raise over $30 million for charity with these experiences. More that 55,000 satisfied winning bidders have purchased an enjoyed a Winspire package, which include such Experiences as award shows, major sporting events, VIP access, family vacations, international trips, cruises and hundreds more. Winspire fulfills each and every package for the winning bidders, booking each Experience down to every last detail. For more information, please visit http://www.winspireme.com