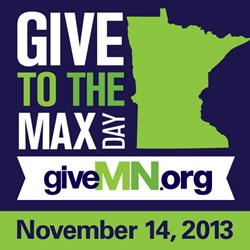 Minneapolis, MN (PRWEB) November 28, 2013
On November 14, 2013, Christians for Biblical Equality (CBE) raised $62,795 in individual gifts and $3,000 in prize grants for a total of $65,795 for GiveMN's annual Give to the Max Day (GTMD). This year represents CBE's highest total recorded giving for GTMD.
Mimi Haddad, president of CBE, said, "It is such an encouragement to see this kind of support shown for CBE as well as all the nonprofits who took part in Give to the Max Day."
In addition to the total raised in individual gifts throughout the day, CBE also received $3,000 in prize grants throughout the day. The grants include a Golden Ticket, which is a $1,000 award given added to a single donation, a Power Hour, which is a $1,000 award given to a the group that raises the most money in their category, and the $1,000 leader board prize grant for 5th place among medium non-profits and 24th overall.
"I want to say thank you to all who supported us on Give to the Max Day," stated Haddad. "It is inspiring to see such overwhelming generosity. CBE will use these funds to continue working to promote the biblical basis for the shared leadership and authority of men and women."
With the funds raised on GTMD, CBE is planning to print youth curriculum for schools in Kenya, hold a conference in Medellin, Colombia, create special edition journals, and form new chapters around the world in the coming year.
In its effort to advance a biblical foundation for gift-based rather than gender-based ministry and service, CBE sponsors annual conferences, facilitates local chapters, hosts an online book service, and publishes two award-winning journals. For more information, visit http://www.cbeinternational.org.