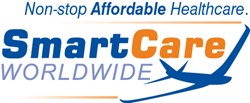 Many employer sponsored healthcare plans in the U.S. – especially an estimated 50% of small business plans – do not meet the standards set by the Affordable Care Act.
Houston, Texas (PRWEB) December 06, 2013
Many employer sponsored healthcare plans in the U.S. – especially an estimated 50% of small business plans – do not meet the standards set by the Affordable Care Act. In many cases, the Affordable Care Act means increasing benefit levels and benefit costs, where employers are facing higher premiums for plans that comply with the new mandated benefits. With the cancellation of 5 million or so individual insurance policies and the employer mandate being delayed until January 2015, employers are bracing for a second wave of terminations starting in October 2014.
More employers are responding to the challenges of current healthcare reform by turning to medical travel benefits like SmartChoice, which can reduce healthcare costs when incorporated with a well-designed benefit plan. Not limited by the same restrictions as traditional benefits, medical travel benefits can be added to existing plans without regulatory or accounting issues at any time during the year, without impacting an employer's cafeteria plan. SmartChoice is the fully-administered benefit offered by SmartCare Worldwide, meaning employers suffer no additional risk or pressure on their administrative or customer service departments after implementation.
SmartCare Worldwide attended a series of recent U.S. employer health fairs to educate employers and employees about SmartChoice. Dr. Joanne Huntington, an on-staff medical director for SmartCare Worldwide, collected data about the type of information employees are searching for and how medical travel is being perceived as a viable solution to increasing healthcare costs. Dr. Huntington commented on her findings in a recent interview:
"The response has been enthusiastic. Not surprisingly, we found that many employees are knowledgeable and have done their own research on medical travel. We can report that in most cases, employees are looking for information about the specifics of the day-to-day medical travel process, and information about the quality and convenience of healthcare in Costa Rica. The major area of interest in terms of medical travel procedures remains in major dental work, orthopedic, cosmetic and bariatric surgeries."
Dr. Huntington continued, "With SmartChoice, employees can access important medical and dental services while recovering in a tropical vacation destination. With our team's 30 years of experience designing and administrating employee benefit plans, our start-to-finish medical travel facilitation and an on-staff Medical Director as our first point of contact, employers who were once apprehensive about adding medical travel benefits to their healthcare plans can move forward with confidence in what we're providing."
About SmartCare Worldwide
SmartCare Worldwide is an innovative medical travel firm with corporate headquarters in Houston, Texas. As medical travel facilitators, SmartCare provides a wide range of flexible medical travel benefits and services for individuals and companies of all sizes, including global enterprises. Our experienced consultants work closely with clients to design and administer the most cost-effective, adaptable medical travel benefits solutions. We provide full implementation and administration of our medical travel benefit product for U.S. employers, SmartChoice, and are committed to providing exemplary, ongoing responsiveness that assures measurable, long-term value in each client relationship.
Corporate contact: Rick Huntington, Principal, SmartCare Worldwide, 855.762.8227
Media contact: Victoria Marasco, V2G Interactive, 512.306.1988