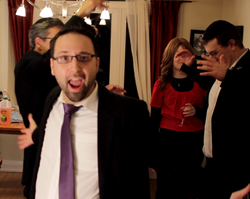 Toronto, Ontario (PRWEB) November 27, 2013
It took a new performer in 2013 to come up with the ultimate chutzpa: parodying an actual Christmas jingle for a Chanukkah song!
The singer's name is KopShtick (one name, like Prince or Madonna) and his debut song, "Chanuka Rock," a takeoff of Jingle Bell Rock, has become the official soundtrack of the holiday season. The video includes appearances by no less than a rabbi, Santa Clause, and a wrecking ball. Disaster indeed!
"I've always loved the Christmas tunes," said KopShtick, of his musical creation. "But as Jews, we sometimes feel guilty enjoying all the holly jolly songs that permeate the airwaves this time of year. So, I guess this is sort of my part tribute, part revenge."
Parody songs have become the rage with many bands and singers paying tribute to well-known songs to create interest in their own acts. Jewish musicians have joined in the craze and a slew of new parodies each year usually crop up around Chanukkah time, where the timeliness of the season attracts more eyeballs. "I love Chanukkah time," KopShtick relates. "The presents, the dancing, the festivities, the latka and donut weight gain. I'm glad that my first song got to be a Chanukkah one."
Do the words "first song," imply more hits are coming? "If it's an actual 'hit', then for sure, I'm in! Bar Mitzvahs, Bat Mitzvahs, Weddings, Communions... Let's do it, let's party!"
With Chanukkah, a.k.a. Hanukkah (and fifty other ways to spell it), quickly approaching, the first candle-lighting night being Wednesday evening November 27th, this song will hopefully help Channukah Rock for everyone in 2014.