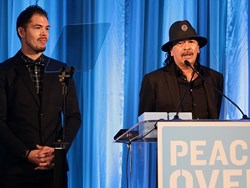 This is the day, the time and the place, where you say: from this day forward, we can stop the violence. - Carlos Santana
Los Angeles, CA (PRWEB) November 27, 2013
October's Domestic Violence Awareness Month wrapped up with a star studded fundraising gala as Jacqueline Bisset, Frances Fisher, Tim Gunn and comedian Patton Oswalt, who also served as the evening's host, joined Peace Over Violence at their 42nd Annual Humanitarian Awards on Friday, October 25th 2013 at the Beverly Hills Hotel. Also in attendance were Homeland's Navid Negahban, Los Angeles Mayor Eric Garcetti, and actress Vanessa Bronfman.
Peace Over Violence is a social service non-profit agency dedicated to the elimination of sexual and domestic violence and all forms of interpersonal violence. Established in 1971 as the "Los Angeles Commission on Assaults Against Women" (LACAAW) the agency provides crisis intervention services, violence prevention education to area youth, and case management and counseling services to survivors of violence. Each year, Peace Over Violence honors individuals and corporations who have made a difference in the struggle to eliminate violence against women, men, youth and children.
This year, the organization presented Carlos Santana and his son Salvador Santana with the Voice Over Violence Award in honor of their intergenerational violence prevention and awareness efforts. Carlos Santana is a survivor of child sexual abuse and is a strong advocate for children's rights. He and his family are the Founders of the Milagro Foundation, a non-profit organization dedicated to serving underrepresented children around the world, focusing in the areas of education, health and the arts. Carlos Santana and Salvador Santana also recently wrote a song focusing on teen dating violence. The evening also honored Fifth & Pacific Companies with the Verizon Wireless Hopeline Award©; USC Shoah Foundation with the Media Award; Keenan & Associates with the Education Award; and The Honorable Jan Perry Former LA City Councilmember with the Public Service Award.
The evening, raised $250,000 for the non-profit agency. Since its inception in 1971 as the Los Angeles Commission on Assaults Against Women, Peace Over Violence has grown from a volunteer crisis hotline to an agency with a sizeable staff and an excellent reputation. It is widely recognized as a social partner in issues of violence prevention, health, education, human rights, and civil society. The organization, offers a wide range of programs which encompass 'one on one' intervention services and 'one on one' violence prevention services.
EVENING PRESENTED BY VERIZON WIRELESS