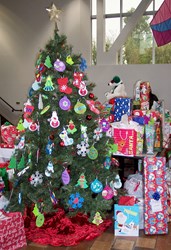 The larger gift that Sentinel brings to our children is the knowledge that someone cares.
Irvine, California (PRWEB) November 27, 2013
Sentinel Offender Services, a national provider of offender management services, is continuing their tradition of supporting local charities through employee volunteer efforts. With 58 offices nationwide and approximately 450 employees, Sentinel's Corporate Responsibility Program encourages staff to participate in charity walks, food and toy drives, and other volunteer efforts that support their local communities.
With the holidays having arrived, charities nationwide are in desperate need of donations to make it a happy holiday season for all children in need. Crittenton Services for Children and Families (CSCF) based in Fullerton, California is one of the foundations that Sentinel supports. Founded in 1966, Crittenton provides a full array of residential, in-home, community based, foster care, and advocacy programs and services throughout Southern California.
For over six years, Sentinel's Irvine office has participated in CSCF's popular holiday gift drive known as The Angel Tree Program. This 15-year-old program collects new toys and clothes, gift cards, toiletries, and stocking stuffers on behalf of families and children served by Crittenton. The program runs from October to early December and over 750 children in all departments of Crittenton Services rely on the kindness of the public for their holiday gifts. Sentinel aims to provide 100 gifts every year to CSCF—a goal they will meet again this year and are on track to surpass.
Pat Williams, Angel Tree Program Coordinator and CSCF Volunteer stated "The larger gift that Sentinel brings to our children is the knowledge that someone cares. Our children struggle to understand the concept that total strangers would want to do something so kind for them and expect nothing in return. They have not known people like you [Sentinel employees] before. You are such a blessing."
The Angel Tree Program connects one child at a time to each caring donor through their simple and specific wishes. Group home children, refugees, human trafficking victims, and children who have experienced all forms of abuse will receive personalized Christmas gifts from Sentinel employees.
On the other side of the ocean, Sentinel employees located in the state of Georgia were at their finest this past October supporting both local and national charities.
These employees, with their families and friends, participated in the Augusta Miracle Mile Walk for breast cancer. The group raised money in support of breast cancer research that affects 1 in 8 women over the course of their lifetime. About 85 percent of breast cancers occur in women who have no family history of breast cancer. Employees who worked at the Sentinel office showed their solidarity by wearing their gray and pink shirts to work which read "Time to Tackle Breast Cancer. Sentinel Walking for a Cure."
Also in October, the Georgia team gathered together their friends and family to participate in Douglasville's annual AIDS walk. More than 1.1 million people in the United States are living with HIV infection, and almost 1 in 5 (18.1 percent) are unaware of their infection. The employees raised money, including Sentinel matching their donation. Douglasville Office Manager Seth Gholston says the staff is also working toward collecting canned food items to donate to a food bank and toys for children.
Crittenton Services for Children and Families (CSCF) is a non-profit social services agency whose mission is to heal the wounds of abuse and neglect; strengthen families; and help troubled adolescents reach their full potential. They provide a full array of residential, in-home, community based, wraparound, mental health, foster care, and adoption services with a service planning area throughout Southern California.
To learn more about Crittenton or start your own Angel Tree Program, visit their website or contact Shaneisha Willis at swillis(at)crittentonsocal(dot)org or Pat Williams at patsname(at)dslextreme(dot)com.
Sentinel Offender Services, a privately held company, will celebrate 20 years in business this December. In the two decades since its inception, over 500,000 misdemeanants have participated in programs designed to keep probationers out of jail, reduce recidivism, and aid correctional agencies in the effort to manage their offender populations.