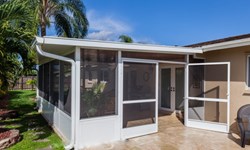 The homeowner can improve in steps, upgrading to a window-enclosed Florida room when the budget allows.
MIAMI, FL (PRWEB) November 27, 2013
For homeowners in Coconut Creek, the math was simple, said Chris Noe, president of Venetian Builders, Inc., Miami, the leading installer of quality, custom-design aluminum additions in South Florida.
"How many ways can you enjoy an open patio, and how many more ways can you enjoy a covered patio?" he said. "The screen patio cover wins out – for convenience, comfort and versatility."
Screen patio covers did just that in Coconut Creek, where homeowners who contracted Venetian Builders to expand the living space in their homes made them their top choice this year, Noe said.
Screening and an insulated roof protect against insects and excessive heat buildup, Noe said.
"That makes patio screen rooms especially helpful for outdoor dining," Noe said. "Because it's completely enclosed and lockable, a screened patio also makes a secure, ideal play space for children. And with ceiling lights, the space is usable evenings, not just days, for relaxing and entertaining."
Venetian builds not only screen patio rooms but also sunrooms and screen pool enclosures in Coconut Creek, West Palm Beach, Fort Lauderdale, Miami, Homestead, Boynton Beach, the Keys and all other South Florida communities. It also installs pergolas for ventilated shade, retractable awnings for shade on demand, and aluminum lattice for patio or poolside privacy.
"Screen rooms are at a minimum 3 season space, and in the South Florida climate, they really are usable year-round," Noe said. "That makes patio screens a bargain way to add livable square footage onto any home."
Venetian realizes that while many homeowners desire an outdoor room, others would like to add fully enclosed, climate-controlled living space but may not have the higher cost in their budget. "That's why our customers can choose a lower-cost screen room that's engineered to convert later to a sun room," he said. "The homeowner can improve in steps, upgrading to a window-enclosed Florida room when the budget allows."
Venetian Builders offers detailed, written, free estimates. It also includes a curbside visit by the Venetian mobile showroom with each no-cost at-home consultation.
For more information, call 866-596-2427.