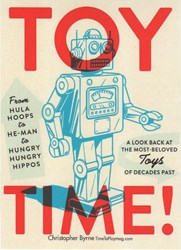 (PRWEB) November 27, 2013
Christopher Byrne—aka The Toy Guy(R)—has announced a list of most-wanted toys selected by the editorial team at TimeToPlayMag.com. Byrne, content director for the site, is author of the new book Toy Time!: From Hula Hoops to He-Man to Hungry Hungry Hippos: A Look Back at the Most- Beloved Toys of Decades Past (Three Rivers Press/Random House).
Byrne added his perspective as a toy historian to descriptions of selected winners to indicate how some of the 2013 holiday picks connect with classic toys. Three of the "most wanted" are

Barbie Digital Makeover from Mattel
o What it is: With the Barbie Digital Makeover, which is part of the official Barbie brand, kids can give themselves a virtual makeover using the app and console to apply virtual makeup to live video of their face using an iPad's camera.
o Fun historical fact: When Barbie was "born" in 1959, she retailed for $3.99. In 2013, Barbie costs only $9.99. If Barbie were to keep up with inflation, she would cost $31.
Lego Star Wars Jabba's Sail Barge from Lego
o What is it: Part of the Stars Wars brand, this product is a large, 850-piece construction set that builds Jabba's Sail Barge.
o Fun historical fact: LEGO is an abbreviation of the two Danish words "leg godt," meaning "play well." The LEGO Group was founded in 1932, with the brick in its present form launched in 1958.
Shimmer N Sparkle Cra-Z-Loom Bracelet Maker from Cra-Z-Art
o What is it: With the loom, kids can create their own rubber band bracelets to collect and trade with their friends.
o Fun historical fact: This is part of a long line of design-oriented toys like the spirograph kit, first introduced in 1965.
"Play doesn't change that much as a developmental function—only the props change," noted Byrne. "Watch-me toys—that is, those with little or no interaction—don't give kids enough to do, which is why companies like Lego and Crayola continue to thrive."
The complete list of most-wanted toys is available at http://www.TimeToPlayMag.com/mostwanted.
Title: Toy Time!: From Hula Hoops to He-Man to Hungry Hungry Hippos: A Look Back at the Most- Beloved Toys of Decades Past
Author: Christopher Byrne
Paperback: 240 pages
Publisher: Three Rivers Press (October 2013)
Language: English
ISBN-10: 0385349122
ISBN-13: 978-0385349123
Price: $15.99