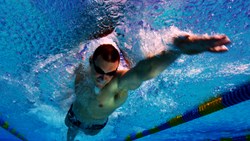 This Holiday camp will be extraordinary as we will have a wide variety of talent and ages.
Florida Keys, FL (PRWEB) December 03, 2013
The Race Club announces open enrollment for an exclusive swim technique camp from December 18th through January 4th. The 18-day long camp allows for participants to make their own schedule choosing from afternoon and morning sessions.
Located in Islamorada, Florida Keys, the camp is the perfect holiday getaway for any swimmer looking to improve their talent. During this Holiday camp, there will be 3 main coaches; Gary Hall Sr., Richard Hall and Amy Hall. The Hall family is legendary in the swimming community with Gary Sr. and Gary Jr. winning 13 Olympic medals between the two of them. In addition, there will also be 2 intern coaches allowing for 5 coaches on the estimated 20 swimmers per session giving each participant individual attention.
"This Holiday camp will be extraordinary as we will have a wide variety of talent and ages. There are top competitive swimmers in the country, swimmers from all over the world, age group swimmers and recreational adult swimmer already signed up for camp. Since we have 5 coaches, specific, technical workouts will be given to each swimmer," stated Amy Hall, marketing director and coach for The Race Club.
The Holiday camp is available for all ages and ability, ranging from 5 to 12 swimmers per session. The Race Club swim camps are designed and tailored to satisfy each swimmer's needs, whether one is trying to reach the Olympic Games or simply improve one's fitness.
Campers that come to The Race Club enjoy their total experience of being in an ocean paradise of Islamorada, FL while being able to learn and improve on personal swimming technique within a few days. Anyone can come and improve on skills, ultimately becoming a faster swimmer while enjoying quality time in the Florida Keys at The Race Club.
For more information please visit: http://www.theraceclub.net
About The Race Club:
Established in 2003, The Race Club is directed and coached by Dr. Hall, a three-time Olympic medalist (1968, 1972, and 1976). Dr. Hall draws on his many years of being an ophthalmologist for his bio-mechanical approach to understanding and coaching the fundamentals of fast swimming techniques. The Race Club offers five swim camps year round for swimmers to come and practice with the best to improve their technique. For more information please visit theraceclub.net or call 877-SWIM-RACE.