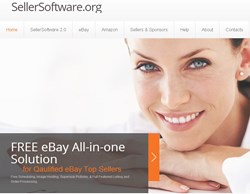 The software is free and no installation is required. We are a 'Good and Nice' IT organization and like to help small and medium size wholesalers in a competitive environment
Los Angeles, CA (PRWEB) November 27, 2013
SellerSoftware.org has announced free ERP Wholesale Distribution Software, providing small and medium wholesalers with enterprise level capabilities. The product helps customers manage core business processes, covering ERP, multi-channel inventory control, CRM, and shipping label printing plus many other processes. It also lets companies automate key operations and access real-time business information from anywhere.
A web-based ERP system, SellerSoftware is engineered to manage advanced, industry specific business processes. Support for sales, purchasing, warehousing, and even shipping insurance is included under a single software platform. Wholesale distributors with 10-500 employees will find the platform to meet their needs.
The software also serves to cover standard industry requirements. Another perk is it is adaptable to each organization and the company's specific business processes. It is simple to use, scalable, and flexible according to the requirements of the time. Businesses can therefore have a streamlined system to manage their operations based on the demands on any given day.
SellerSoftware enables organizations to increase productivity. It also has order management features such as order input, pricing, and availability on one screen, while a comprehensive inventory management system records a history of all inventory levels. In addition, a web-based management system enhances collaboration.
Users can also see growth in sales, given the software is extremely scalable. Businesses, even those with multiple locations, can be in control in real time. Better yet, the community version of ERP system is simple to configure and managing the entire workflow is just as easy.
The software includes all of the capabilities needed to operate an entire company. New tools include an inventory aging report, brand analytics, UPS and USPS shipping label printing. These and all of the standard features can be accessed via the web any time, anywhere. Access from a common web browser decreases the learning curve, so employees learn the system more quickly.
"The software is free and no installation is required. We are a 'Good and Nice' IT organization and like to help small and medium size wholesalers in a competitive environment," said James Kim, an ERP specialist.
For more information on SellerSoftware, please visit http://SellerSoftware.org.
About SellerSoftware.org
SellerSoftware.org, a Los Angeles based IT company, provides software to help small and medium sized eBay and Amazon sellers grow their business. The company's enterprise level software is ideal for e-commerce development in any industry.