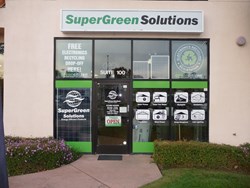 In order for responsible e-waste recycling to take off, it must be more convenient for consumers and businesses and there must be full accountability to ensure that everything gets recycled safely.
Santa Clara, California (PRWEB) December 02, 2013
GreenCitizen is opening its new Eco-Station in Santa Clara on Monday, December 2, 2013. Located inside the SuperGreen Solutions Store at 5155 Stevens Creeks Blvd, Suite 100, Santa Clara, GreenCitizen's new Eco-Station will be open from 10 A.M. to 6 P.M., Mondays through Saturdays, all year round.
Santa Clara and San Jose residents and businesses can now drop-off, for responsible recycling, any working or non-working electronic items, including computers, monitors, TVs, printers, appliances, or portable devices that use electricity. Please refer to http://www.greencitizen.com for a full list of acceptable items.
The new GreenCitizen Santa Clara Eco-Station is only 10 minutes away from downtown San Jose and San Jose State University, and just a couple of blocks from the Stevens Creek Boulevard intersections with the Lawrence Express way and I-280. Simply use 87 N and/or 280 N and take the Lawrence Expressway exit. Located next to Bed Bath & Beyond, across from McDonald's, Starbucks Coffee, Safeway, and Sports Authority, the Eco-Station is also less than a mile from Santana Row, and the popular Westfield Shopping Mall at Winchester Boulevard and Stevens Creek.
Since opening its first center on Earth Day 2005, GreenCitizen has successfully helped over 15,000 businesses and 150,000 residents responsibly recycle their electronics. In this time, GreenCitizen has diverted over 10 million pounds of electronics from landfills and from global dumping on developing countries. The amount of e-waste that GreenCitizen has diverted is equivalent to reducing 12 metric tons of CO2, planting over 300,000 trees, or taking 2,500 cars off the road for a year.
"The amount of obsolete electronics piling up in our offices and homes is staggering. When these electronics are not recycled properly, this e-waste often ends up in landfills here or in developing countries, where it can cause serious social and environmental harm." says James Kao, GreenCitizen's Founder and CEO. "In order for responsible e-waste recycling to take off, it must be more convenient for consumers and businesses and there must be full accountability to ensure that everything gets recycled safely. We are very excited to partner with SuperGreen Solutions to bring convenient and accountable electronic recycling services to Santa Clara, San Jose, and surrounding cities of Cupertino, Sunnyvale, Saratoga, and Campbell."
Belinda Vega, president of SuperGreenSolutions states that: "SuperGreen Solutions of Stevens Creek is excited about working with GreenCitizen to truly provide a complete environmental solution. We feel the missions of our companies are similar and complimentary. Together we are helping our customers make the world a better place and making every day Earth Day."
SuperGreen Solutions is a one-stop retail store for energy efficient and green products, providing a holistic approach to energy efficiency by offering a variety of products, reducing clients' energy usage and thereby maximizing their cost reduction. They provide solar panels, wind turbines, LED lighting, electric car chargers, efficient water heaters and insulation. They can arrange for installation, assist with rebates and tax incentives, and provide financing. They also provide other green products such as air purifiers, atmospheric water generators and non-toxic pest control products. SuperGreen Solutions of Stevens Creek is a minority woman-owned business.
GreenCitizen is a socially and environmentally responsible company dedicated to helping consumers and businesses reduce their environmental footprint through proper disposal of their electronics. GreenCitizen achieves this through closed loop reuse, convenient drop-off, and business pickups. All recycled items are accounted for fully all the way through dismantling and de-manufacturing within the San Francisco Bay Area. In addition to the new Santa Clara Eco-Station, GreenCitizen has four Eco-Centers in Berkeley, San Francisco, Burlingame, and Mountain View.